They say in comedy; it's all about the delivery, you can have the best material in the world but if you can't get it across to your audience right, it's not worth telling, that is one problem that Irish Comedian; Jimeoin definitely doesn't suffer from, never have I seen a Comedian who can deliver material with so much expression, not with loud noise and shouting; no his technique is far more advanced, his bold facial expressions and his quiet story telling makes the audience pay attention to every word not just the punch lines and makes the whole routine come alive in the process.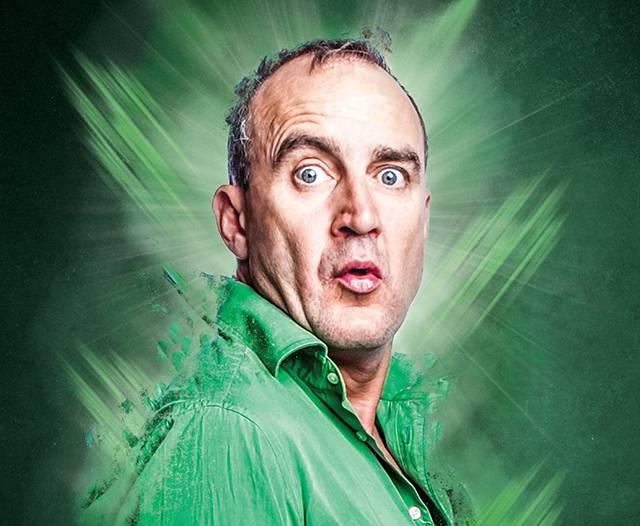 It's no surprise to know that Jimeoin is not new to stand-up comedy, if anything he is somewhat of a veteran who has been gigging for 25 years; as a result he has finely crafted his art, the material is witty and always relatable; turning the mundane into belly laughs, from something as simple as going to the toilet at night to Forgetting people's names, it's always fairly light hearted and fun, one can describe Jimeoin's show as that of seeing your friend for drinks at the pub; it's very laid back, it's not punchline after punchline but you have a great time and you want to do it again as soon as you can.
The whole show even seems like it's entirely ad-libbed and very natural, the first half is very strong and seems to have an underlining structure however the second half seems to whimper out somewhat and winds down in the same way a School Disco does yet Jimeoin succeeds in engaging the audience with very little audience participation, even referring to a book of jokes similar to what you find in a 'work in progress' show manages to gain even more laughs just by referring to the book, a true master at work.
As with previous tours; there is a musical element to the show with Jimeoin performing a number of witty songs on his trusty guitar; the songs are short, a couple very short but always prove popular with the crowd and a skit about encores is the perfect ending to what was a hilarious night of comedy with a true professional at work, even if he doesn't come across like that all the of time.
Verdict: A ridiculously talented comedian at work!
Reviewer: Max Eden
Reviewed: 13th October 2017
North West End Rating: ★★★★