Whether you know David Baddiel as half of the laddish nineties duo of Baddiel and Skinner, or in his later incarnation as a highly successful children's author, or even if you are old enough (like me) to remember the Cambridge Footlights inspired Mary Whitehouse Experience; he is one of the most recognisable and successful comedy talents of the last 25 years.
This latest show entitled 'My Family - Not The Sitcom', was first staged in 2016 at London's Menier Chocolate Factory, before successfully transferring to the West End. He describes it as 'a twisted love letter to my parents', and it documents in frank, hilarious and shocking detail the exploits of his recently deceased mother and his father's battle with dementia. Whilst this doesn't sound like typical source material for a comedian, Baddiel skilfully uses his own experiences to ask wider questions around the boundaries of comedy in the age of social media, the result is a warm and intelligent view of his complicated family dynamic.
The show divides neatly into two halves with the first part concentrating on his mother, before moving onto his father and the impact of dementia after the interval. Baddiel guides us gently, at the beginning using a combination of tweets, emails and photos to move us into his family story and introduce the main characters. For example, we learn of his Jewish grandparent's persecution and flight from Nazi Germany through a chilling photo of their passports complete with swastika stamp.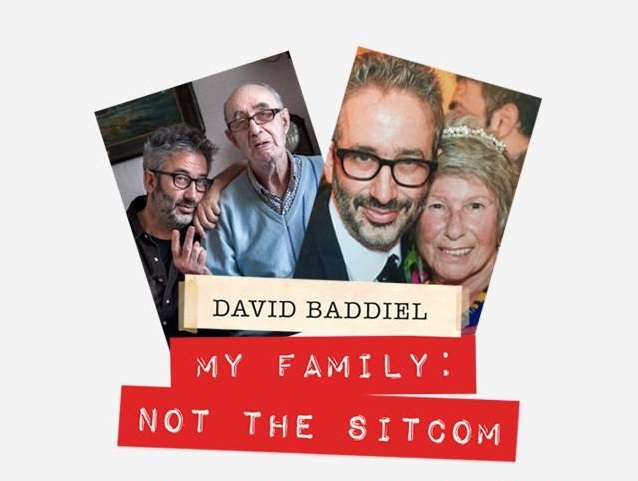 The touching comedy develops as we move onto his mother, and how Baddiel discovered following her death that she had been conducting a 20 year affair with a golf enthusiast called David. He recounts in detail the discovery of her 'erotic verse' and how both he and his brother were accidentally copied into a graphic email she sent to her lover. At certain points he seems more upset with his mother's lack of understanding of the rules of punctuation when writing emails than with her infidelity.....
After the interval, the attention shifts to his father and the effect of his diagnosis of Picks disease, a form of dementia. Baddiel sees this 'punk dementia' in terms of his dad becoming a more extreme version of his existing personality, He develops the theme of his father as vulgar and uninhibited with stories of fighting in day care centres and inappropriate advances to women at his wife's funeral all told with a resigned air.
In lesser hands, the use of this material could become mawkish, exploitative and even cruel, but with Baddiel it so obviously comes from a place of love and a heartfelt desire for his parents to be fully and properly remembered. He believes that his late mother would fully approve and that this show acts as the eulogy he never got to give at her funeral.
His warmth to both parents is evident throughout and is shown best in a recently discovered 25 year old video of his father proudly hugging Baddiel after a successful show, encapsulating his love and their complicated and bittersweet relationship in that one moment.
The question of whether or not such intimate and personal material should form the basis of comedy has been raised in relation to this show, Baddiel himself acknowledges this and concludes by explaining his reasoning. He argues that his family's ownership of these stories gives him freedom to discuss them and challenge the wider preconception that certain subjects cannot be discussed for fear of offence. He has undoubtedly found the writing and performance a cathartic experience, and judging by the Lowry's reaction tonight he has struck a chord with a wide and sympathetic audience who will both laugh and cry in equal measure at this funny and heartfelt performance.
Reviewer: Paul Wilcox
Reviewed: 4th March 2018
North West End Rating: ★★★★