Brain Conley's performance career spans 45 years, he is a comedian of the most natural kind, he is also a Laurence Olivier Award nominee for his role in 'Jolson' and has starred in numerous West End theatre roles. He has a game show currently on TV, and is famed for his catchphrases in his previous shows - 'It's a puppet!'
This show truly has everything, including his Musical Theatre past roles taking centre stage in this, his new UK tour. Conley belts songs from shows such as Me and My Girl (Lambeth Walk), Oliver (Reviewing the Situation), Chitty Chitty Bang Bang (Hush-a-bye Mountain), Barnum (Museum Song), Jolson (Mamee and Swanee River) and Hairspray (Hey Mama) showing his wide ranging talent and versatility. With a strong, rich and accomplished Musical Theatre voice, Conley's characterisations are both self-assured, dynamic and real crowd pleasers. All the above were wrapped tightly within a constant barrage of humour, harking back to the time when comedians weren't overly scripted by comedy writers, they were.... 'just funny'.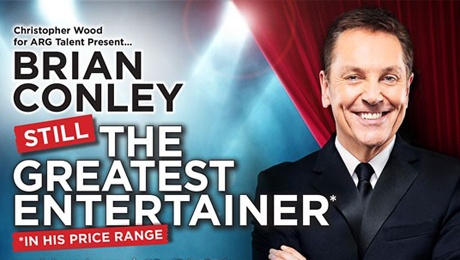 During the evening I was reminded stylistically of Tommy Cooper and Eric Morecombe, of an era when a comedian was natural and organic. The audience lapped it up and were in raptures at Conley's very risqué gags and innuendo's, but never once did he overstep the mark, his pitch and delivery was perfect. Personally, I have never been one to take offence at 'naughty' stories and jokes and it would seem I was not alone in the audience tonight! His comedic material is right for his cheeky - chappie persona and the laughter in the theatre was not stifled at any point, it was raucous, in fact it was a gigantic guffaw!
Conley's show felt very much like a variety show of a bygone era. 'Dangerous Brian' made an appearance as did 'THAT' puppet. Conley included physical comedy ranging from fake violin playing - with his real hand and more importantly finger taking a life of its own in this groin region, resulting in hilarity from all ages from the spectators. Conley even attempted fire eating and penny whistle playing - from his nose, in his jam packed repertoire. All of these forms of entertainment were masterfully executed and with a natural ease. His constant visits into the audience and his use of two audience members on stage was welcoming and added to the warmth in the theatre. Conley has a lovely way of making everyone feel they are his friend and confident.
The first Act of the show incorporated Mat Ricardo, 'The gentleman Juggler' as Mr Conley's support act. Ricardo has fast hands, is fast talking and modelling a sharp suited, he is accredited with the title of 'the only man to put the tablecloth back on the table'. This was a very impressive skill to match his juggling expertise and professional delivery.
At this particular performance the singer/Musical Theatre performer Darren Day was in the audience and was brought unexpectedly onto stage to sing 'I Close My Eyes' from Joseph and an impromptu duet of 'That's Life' with Mr. Conley (lyrics in both their hand). The pair related funny stories of their time together and showed a real bond of friendship that was heart-warming. Day left the stage praising Conley 'as being the best he has ever seen him up there tonight'. I must agree this is a fitting tribute to an exceptional performer, who oozes charisma and has the audience in the palm of his hand from the minute he steps onto stage. A consummate professional and worthy of a much highest ticket price regardless of the tour title! Well he has done the Royal Variety Show seven times!
The evening concluded with a Q&A session from the audience were we learned, through the questions asked, how Conley started in the business, who was his comedy inspirations, his favourite singer etc. Conley answered with candid honesty, he was warm and his responses had his usual 'off the cuff' gags, highlighting how naturally funny he is.
So to conclude, If you want an evening were you can just leave everything behind you and just laugh and smile manically, go see this show. If you want to see a gifted Musical Theatre performer and singer, go see this show. If you just want to see entertainment in its purest form, raw and joyous.... look no further...this show is a must see. I will definitely be catching this show again and taking friends, family and my Performing Arts students. I really do not think I have laughed as much for years, what a complete performer. Thank you Mr. Brian Conley - you are no puppet!
Reviewer: Tracey Bell
Reviewed: 22nd May 2018
North West End Rating: ★★★★★