Nish Kumar is angry – very, very angry about a lot of things. Fortunately, he is also funny – very, very funny about those very things. The title of his current touring show, It's In Your Nature To Destroy Yourselves, a quotation from Terminator 2, gives a clue as to his opinion of how things are going, and they're not going well. And at times like this, comedians like Kumar – insightful, politically astute, and self-aware - play an important role in cutting through the obfuscation of politicians and pundits and communicating a more down-to-earth perspective.
In his set, Kumar covered a range of topics, and to anyone familiar with his work from Mock the Week, Have I Got New for You, QI, and more recently The Mash Report, the BBC's satirical news show, it'll come as no surprise that Brexit featured largely, with racism and sexual exploitation not far behind. He rants and he raves, and his voice goes up and up in both volume and register with incandescent rage and the utter disbelief of people's inability to, well, to see things the way he sees them, frankly.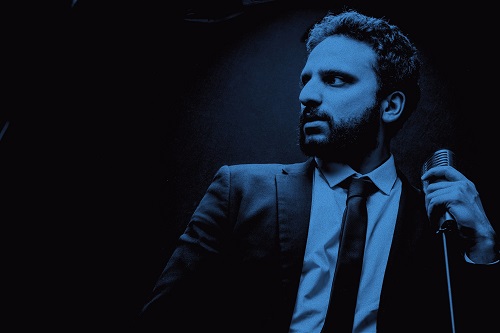 But he's not preaching, here. After all, no one enjoys being preached at, and the audience - with almost constant laughter and several rounds applause for specific points –were definitely enjoying themselves. Kumar's self-deprecating style means he can establish a sympathetic relationship with the audience that is essential to any comic act. From the much appreciated description of how he is frequently mistaken for local hero Mo Salah, we also heard about his problems of having a brown face at airports, his comedy heroes' betrayal of his faith in them, and his consternation at finding himself on Question Time among other far better qualified ethnic minority panellists. He is able to engage with the audience on a personal level and take them with him so that rather than feeling ranted at, they empathise, and so the relationship between comedian and audience develops. The problem, as Kumar pointed out, is that this only works where the comedian and the audience are singing from the same hymn sheet, so to speak, and he was frank – but still very amusing - about the difficulty of touring post-referendum Britain with such an anti-Brexit stance.
A cleverly scripted, well-structured show from a man passionate and informed about both politics and comedy, able to poke fun of himself as much as at those in power, makes for an excellent evening.
A bonus was his support act, Indian born comedian Sindhu Vee, who's set on how to have a successful marriage, on cultural extremes, and on having elderly parents was a perfect start to the evening.
Reviewer: Johanna Roberts
Reviewed: 23rd September 2018
North West End Rating: ★★★★