Entering the theatre via the audience and clapping himself on to the stage, Henning Wehn arrived to a lively applause from his many fans. The self-titled 'Germany Comedy Ambassador for the United Kingdom' had arrived. However its clear most know him as 'that funny German bloke'.
Henning Wehn is known to most of us from his numerous appearances on TV. From panel shows such as '8 out of 10 cats' and 'Would I lie to you' to shows such as 'QI' and also a variety of radio performances from The 'Unbelievable Truth' on Radio 4 to passionate performances on Five Lives 'Fighting Talk' where he is often the voice of the lone pro Germany football fan. He is one consummate performer having appeared on some of these much loved British staples.
Hilarious from the moment he walked on stage, Henning Wehn was easily able to handle a noisy crowd and it soon became clear that this comedian could handle most situations as was very comfortable on stage, constantly grinning.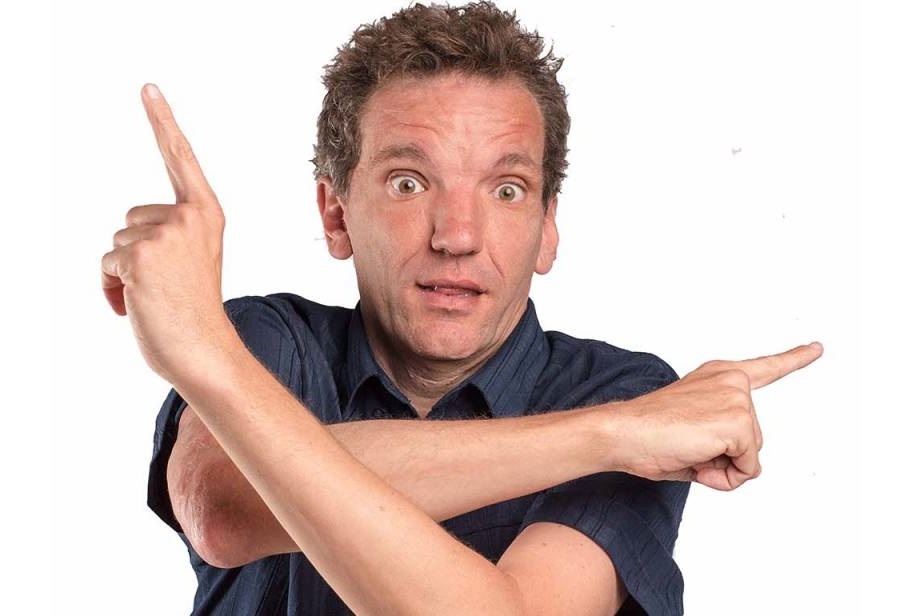 His comedy is certainly tuned in to the British way of life and in a very 'German way' he mocks, but in no way could you be offended as he also sends up what it is to be German too. One of the themes was certainly that of British workman ship, finishing early, poor service, botched jobs etc…He believes that a 'moderate' plumber in Germany would be 'Plumber of the year 10 years running' in the UK. However he suggests that the Germans don't really slag the English off as we're just not that important!
Being proud he has a good command of the English Language he mocks how even the English don't speak English properly. Having learned the tenses, 'I was you were, we were etc, he comments on the fact that in London it was nothing like this in reality- everyone only used the word 'was'- ' I was', 'we was' , 'they was' etc. Hard to disguise his accent but having picked up many colloquial phrases and expressions from his 17 years in the UK, it was amusing to hear him suggest someone was 'proper gobby' and 'proper trollied'.
Football has a place in his performance and although he openly suggests he needs to keep quiet about Germany's performance in the last World Cup he states that by comparison, getting to the quarter final was 'like VE day' for England.
The show was a lot shorter first half than the second possibly because the theme of the second half was almost entirely more political and very Brexit focussed and so it was best to keep it all together. The majority of the country may be tired of hearing about Brexit but Wehns observation, views and opinions were hilarious. He is very politically aware especially about the current situation in Britain and comes across as very articulate, knowledgeable and an avid fan of current affairs. However, his comedic observations put a hilarious slant on the very dry subject that it is.
Henning Wehn by his own admission has 'no transferrable skills' and so can't be 'sent back' to Germany and it's a good job, as perhaps the 'German Comedy Ambassador for the UK' is just what the country needs at the moment!
Reviewer: Angela Kelly
Reviewed: 19th October 2018
North West End Rating: ★★★★