Tonight I went to the Lowry to watch the Comedy Club 4 Kids with my seven year old daughter. The show is a clean children's version of the adult Comedy Club. Since 2005, the Comedy Club 4 Kids has been getting the best stand-ups and sketch acts from the international circuit to do their thing for an audience of children (aged 6+) and their families… but without the rude bits!
A decade later, the company has expanded from one London residency to being countrywide, running shows and workshops all over the UK from Peebles to Portsmouth, even producing a book on how to write and perform stand-up.
I really enjoyed the show. It was funny and engaged both children and adults right from the start. The show was divided into two acts lead by a comedian named Chris. Chris was hilarious and had the whole audience in hysterics.
The first act consisted of a group of two men and two women. They performed three mini skits which involved children from the audience. The skits were funny and had us laughing especially when one child acted as a puppet master for the grown-ups.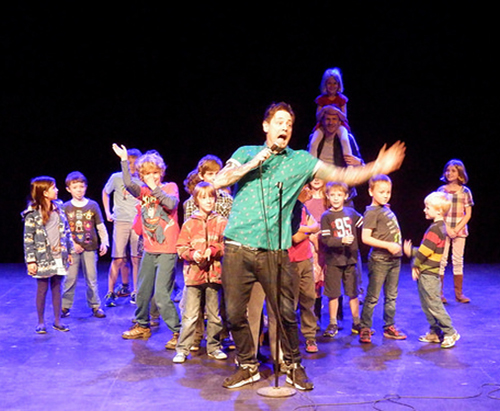 Other skits included acting out sports personalities and making jokes with the children on stage. I really enjoyed the first half of the show as did the many children who were laughing continuously throughout the evening.
The second half of the show again featured host Chris the comedian who got the kids laughing and stirred up in the room with jokes and laughter. This was followed by a comedian named Jay Forman. Jay was really great, playing his guitar and singing a lot of funny songs. One song which had both kids and adults in stitches was called "My Car Runs On Caterpillar Sick" this was gross but the song was very entertaining and I'm sure there was not a single person unable to laugh or devoid of a smile on their face.
As in the first Act, Jay picked out members of the audience, teasing and joking and inciting lots of fun. This drew lots of laughter and was fun for the kids who were shouting and laughing out loud. The audience was fully engaged and having a blast. Jay sang his way through the second half of the show sharing jokes and lyrics which were funny for everyone. One of the songs being possibly the funniest I've ever heard.
The show was fantastic, there was only one joke which I found a little inappropriate and of bad taste in front of children and apart from that the night was a huge success.
Would I recommend the Comedy Club 4 Kids to other parents? Yes! It's a great evening out and a good way to laugh away the night. There is no better sound to a parent than hearing their sibling laughing out loud.
Reviewer: Angela Milnes
Reviewed: 18th February 2016