Confession time: I don't think I'd heard of Carl Hutchinson before tonight, I am just a fan of comedy, and so I entered the studio with an open mind, hoping for a little bit of a laugh at least.
The show kicked off with Geordie Anth Young, who was easily one of the most natural comedians I have ever had the pleasure of watching. His jokes were quick, with great energy and a nice, easy flow. He didn't seem at all like a support act (often nervous, perhaps a little inexperienced), but jumped right in with the jokes, none of which fell flat. In his short set, he touched on speed awareness courses, all-inclusive holidays and children. A very relatable, likeable guy.
Next up was Rahul Kohli, an Indian Geordie whose focus was an equally hilarious and intelligent commentary on racism amongst other topics. It's a difficult line to tread, mixing comedy and politics and yet Raoul got it spot on, evoking laughter and thoughts in equal measure.
Finally, the main act. The first half of the show involved the usual observational humour. Touching on his past life as a teacher, and random, everyday irritations, Carl is, quite simply, a very funny man. None of his jokes were particularly offensive, or mean spirited, and it made for a great, open atmosphere in the room. His ability to call back, all throughout the show took his jokes to the next level and showed how much attention and effort had gone into the writing of the show.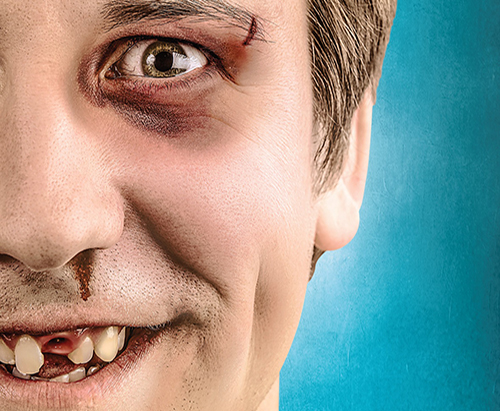 During the interval, we were asked to tweet something that we had done, that had made us feel proud. It was a little nerve-wracking, tweeting in, not knowing what these were going to be used for, but I genuinely think that by this point, everyone was aware that he was nothing but a (mostly) nice guy and you weren't likely to be torn apart.
When he came back on stage and read a few of his favourites (mine was in there I'm proud to say!), any jokes seemed to come naturally. Nothing was forced and he wasn't afraid to simply have a nice chat with the person about their achievement. We all gave each other a round of applause and it was just a cool, different way of audience interaction, rather than feeling awkward as some poor unwilling soul is picked on…!
The point of this exercise, was to bring us to the thinking that led to Carl taking up professional wrestling. As much as I enjoyed the use of a projection and multimedia, it was a little reminiscent of Dave Gorman and sadly not quite as good. That isn't to say that it wasn't hilarious. The video of Carl training, the lyrics of a wrestler's introduction song, and reference pictures (especially of a young Carl dressed up!), were fantastic, and made the jokes ten times funnier than without.
Although there was a large portion of the show dedicated to wrestling, I do not feel that it excluded those who were not wrestling fans. If anything, the explanations of the characters and their various reinventions, felt as though they were just as well received, regardless of the level of prior wrestling knowledge.
With one of the final jokes being the ultimate call back to what seemed like a casual observation made earlier in the show, and the overall genius of Carl, the reason he is clearly going to only go from strength to straight (in comedy for sure, potentially in wrestling too?), is obvious.
Reviewed: 11th May 2016
Reviewer: Codie Austin