In an age of senior citizens being left to die on trollies in hospital wards, abused cases in care homes and a mood swing to blame baby boomers and older for global warming and the financial crisis leaving the next generation without pension cover – this new play by Sandi Toksvig brings a sense of calm and comic reflection on the aging process in Silver Lining.
It is hard to believe that Ms Toksvig isn't a native Brit, as her humour has British Comedy Classic through her like Blackpool rock.
Set in a care home on the banks of a river during Storm Vera, the four – then five residents face the rising water with the same resilience and determination as they face the falling sands of time.
A great deal of research has gone into writing this comedy, and the very different characters who live in the home have a breadth and depth which makes you think of individuals 'just like them' we know in our own lives.
It's the little details, the descriptions of a loveless marriage, a violent marriage and affair with a married man that show the great skills of the author – all female life is here within this set. And current issues of ageism, homophobia, racism, global warming are covered in this one play that still manages to also keep the jokes and laughter coming in constant waves.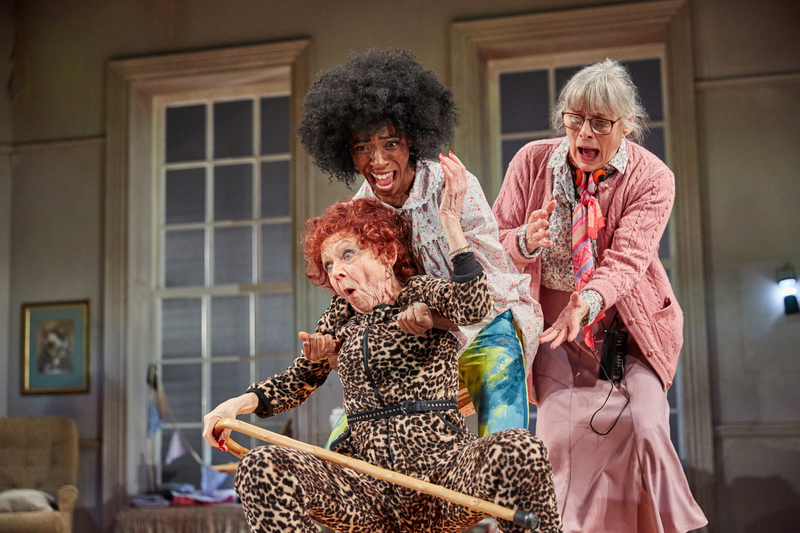 The individual back stories of each resident could have become quite sentimental and saccharine, however the flashbacks are edited perfectly and sit against the here and now of the young black 'carer' Hope Daley. Hope, played with great comic timing and style by Keziah Joseph gives this black comedy an anchor in the now, and moves the storyline along.
The five other women on stage are familiar faces for the TV and movies of the 60s through to present day.
The lively spinster of the home, Gloria Berhhardt is played by Sheila Reid, best known for her role as Madge in ITV's Benidorm. However, in this role she had the opportunity of showing she is more than just a comedy actress, as she portrays the hopelessness and despair of a depressed resident, hiding behind the façade of the jolly clown. A beautiful performance.
Sisters at war May Trickett and June Partridge capture the hate/love relationship of siblings who took polar opposite routes through their lives. May played by Maggie McCarthy whose credits include Angela's Ashes, Midsummer Murders and numerous other roles in TV classics is the comic of the group, hiding away the loss of her life partner. Her sister, June played by Joanne Monro whose credits include Doctor Who, Hale and Pace and That's Life and many more, is a racist, homophobic, bible basher – who has her own secrets to be uncovered.
Another actor from Dr Who, Band of Gold, Private Function and numerous other programmes and films is Rachel Davies - who plays the happy hypochondriac widow, Maureen who packs a punch. Her reminiscences of life as an actress, mother and wife open a window to see inside a suburban home.
Dementia fails to spoil the telling of St Michael's own story, played gently yet with integrity by Amanda Walker - whose film credits include Room With A View, Captain America: The First Avenger and ITV's The Missing to name just a few.
St Michael's box of tricks shows another side of life which is still alive within older age – with years the human urges don't disappear. And these women provide that they are not going to disappear from life and the challenges it provides.
This is not a sugar-coated portrait of older women, it is a comedy about being alive whatever your age. It is a reminder to look beyond the crimpling, elastic waist clothing and see the person who has and is living a life.
And though this comedy is about the lives of women there is one male role, Jed which is played by the author's son Theo Toksvig-Stewart. The male cameo role presents a reality of flooding – the thieves who pray on the vulnerable in these times of disaster.
It is hard to believe this is Ms Toksvig's first comedy play, and I hope it is the first of many.
Silver Lining is a touring production from the English Touring Theatre and is at Theatre by the Lake until March 25th and before going to York Theatre Royal March 28th -April 1st and finally The Lowry, Salford Quays April 4th – 8th.
Reviewer: Katie Chesworth
Reviewed: 21st March 2017
North West End Rating: ★★★★★
Image: ãMark Douet