Tilted Wig Productions and Malvern Theatres presents their touring adaptation of the Dickens' classic Great Expectations at Theatre by the Lake and Nichola McAuliffe as the iconic Miss Havisham steals the show, writes Karen Morley-Chesworth.
The Olivier Award winning actor has an amazing presence on stage that brings real drama to this otherwise hyper production. As Miss Havisham, McAuliffe creates the jewel centrepiece which holds the crown of the story and this adaptation together.
Ken Bentley's adaptation is very true to the original novel, telling the tale of the poor orphan boy, Pip who meets a convict on the marshes. A mystery benefactor then takes him out of his working-class existence to elevate him into a society gentleman of London. Pip believes the jilted Miss Havisham is behind his good fortunes the reality falls short of his fantasy.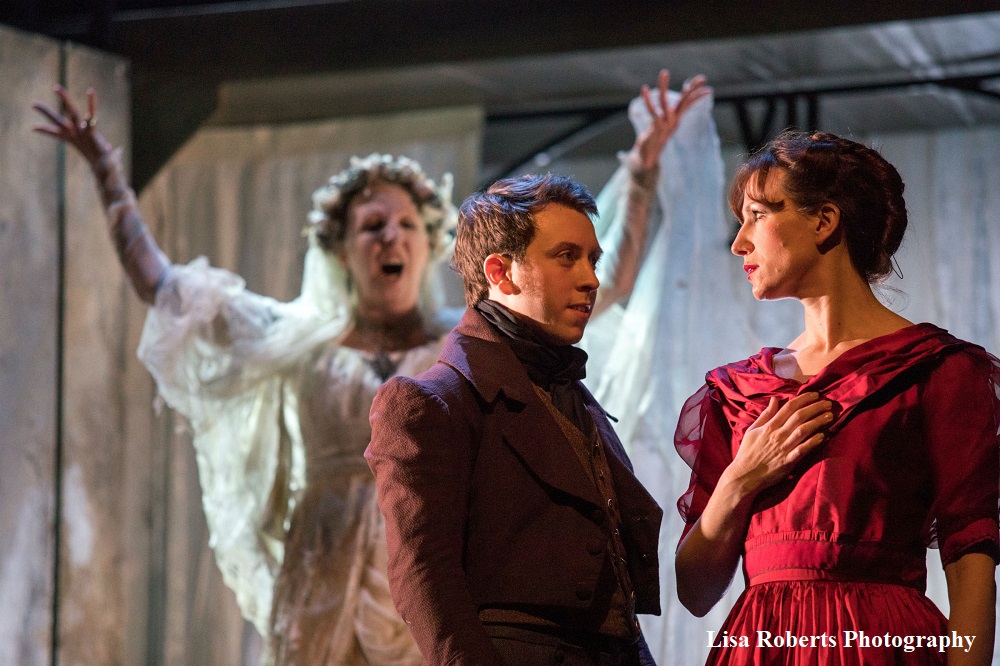 She stopped the clocks and time when her lover left her at the altar, to live in a decaying wedding gown surrounded by the rotting wedding breakfast. She invited Pip to come and play with her adopted daughter Estella played by Isla Carter. In her revenge upon all men for her own broken heart, Miss Havisham has raised Estella to be dispassionate and make men fall in love with her, so they may have their hearts broken. And Pip falls for his young playmate.
The play takes us through the life of Pip. From the young boy to man Séan Aydon in the role appears to actually grow into the part on stage. His relationship with Joe, his brother-in-law and life-long friend played by Edward Ferrow brother-in-law works well. Daniel Goode gives a good portrayal of Magwitch, while James Dinsmore gives a strong performance as Jaggers.
This tale of great expectations is told within a box stage, the set representative of the constraints put upon the characters by others and themselves. The music and sound effects create a sense of place, atmosphere and mood, however the overall feel is a little old school.
It's not a bad production. It is an honest re-telling of a great tale, captured within two-and-a-half hours, however for me it lacked dynamics.
Charles Dickens' Great Expectations adapted by Ken Bentley runs at Theatre by the Lake until 14th April. https://www.theatrebythelake.com/production/17269/Great-Expectations
The tour continues:
Theatre royal, Windsor 19-21 April
Theatre Royal, Winchester 24-28 April
Belgrade Theatre, Coventry 2-5 May
Everyman Theatre, Cheltenham 8-12 May
New Theatre Royal, Portsmouth 22-26 May
Churchill Theatre, Bromley 29 May – 2 June
Hawth Theatre, Crawley 6-9 June
Northcott Theatre, Exeter 19-23June.
Reviewer: Karen Morley-Chesworth
Reviewed: 10th April 2018
North West End Rating: ★★★