I have to say that this review of War With the Newts has been far tougher to write than most other reviews I've ever written. That's not because of any flaw in the production, which is polished, interesting and of high quality. I suppose though that those sort of qualities are the bare minimum one should be expecting of any Theatre production of value. Perhaps, to many this might be seen as a compliment but I find myself far too discerning these days, so when I pay these compliments to a production of this quality I feel my words are inadequate and that I should be finding brand new superlatives to shower such a production with. Despite being confident in the accuracy of my words I still feel I'm failing in the latter.
Adapted for Knaive Theatre Company from Karel Čapek's science fiction satire, War With the Newts tells the story of how mutual co-operation between humans and newts leads to exploitation, war and finally subjugation. It's an absurd premise leading as absurdism does to an acute political message and in this instance it's skilfully executed.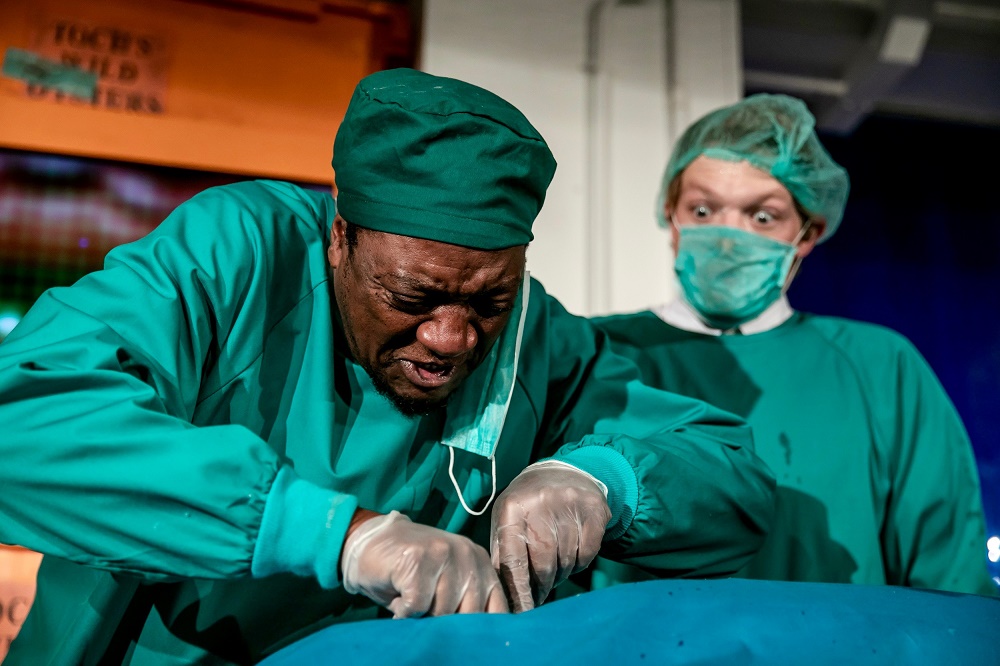 Set in the hull of a fishing vessel around which the events of the play centre, the show could be called immersive if one chooses to use that word. Perhaps that description is ambiguous. Shouldn't all theatre be immersive? Whatever the answer to that question I'm digressing.
This setting lends opportunities for set design which are taken well bringing the audience into the set through a variety of creative and sometimes elaborate ideas. It's not by any means a simple design but it's intelligently designed and demonstrates a nice versatility, incorporating soundscape and screens which work holistically.
Too often the danger with political plays are that there might be an over eagerness to push a political message. Not with this play, which gently lays out plot and premise then releases its message of exploitation leading to revolution with subtlety, finesse and a bit of humour. It's a well adapted piece of Theatre and a great choice for adaptation.
At War With the Newts is a difficult play to write about. There are absolutely no weak links. It's well developed after a month in Edinburgh and now on tour and the strength of talent in the company is well apparent. Well written, well performed and an excellent concept. There's really not much more to say except try and see it if you can. It only came to Lancaster for a single date and that will be the case in most other places on the tour.
Reviewer: Karl Barnsley
Reviewed: 26th September 2018
North West End Rating: ★★★★