Macbeth is known to most as an extremely passionate and emotional Shakespeare tragedy which tells the story of Macbeth who returns from battle to encounter a witches who prophesy that he will be King of Scotland and with his wife realising that Macbeth has the ambition but needs the strength to do it, they work together in tangling a web of murder and betrayal.
The play is one of the most well known from Shakespeare and I have had the opportunity to see it countless times at theatres around the country but never have I seen a version quite like the one I've just witnessed as part of the opening of the Buxton international festival.
Now to be fair, this production is Macbeth '1847' which means it's an opera of four acts written by Giuseppe Verdi and the tale of Macbeth is just perfect as an opera, Shakespeare clearly missed a trick.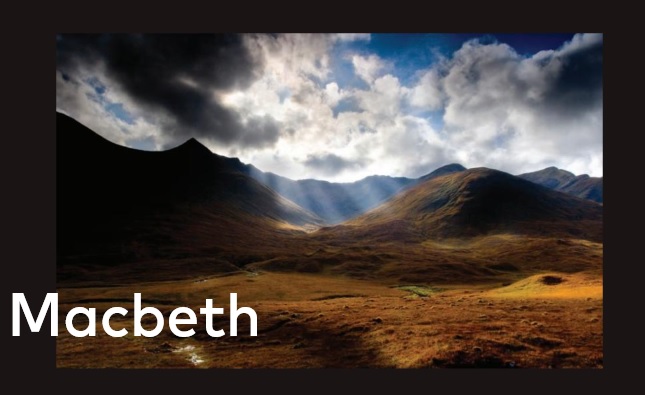 The performance is incredibly powerful and thought provoking, and the vocal strength conjure up emotions and thoughts of the wilderness of the Scottish highlands and the treachery that takes place therefore.
The tension and raw energy of Macbeth played by Buxton International Festival regular; Stephen Gadd alongside Lady Macbeth performed by the immensely talented Kate Ladner is overwhelming and this production really does justify Buxton holding its own international festival.
The director; Elijah Moshnsky has been very clever with the way he has taken this production, Verdi's Macbeth is it seems to me, a very raw opera, the songs are almost spoken as speech at times and it becomes quite complex and agile as an opera as a result, but Moshnsky seems to have taken all the nuisances that come with this early Verdi work and turned it into a positive, the staging is fairly simple but yet effective, thanks in part to quite atmospheric lightings and projection effects by Mike Gunning and a perfect musical accompaniment from the NCO orchestra and festival Chorus lead by Matthew Morley who adds even more depth into an already immersive opera.
This production is a perfect opening to the Buxton International Festival as it perfectly showcases the immense talent on offer at this beautiful theatre up in the Peaks.
Verdict: A truly incredible and powerful opera, the best Buxton has possibly ever seen.
Reviewer: Max Eden
Reviewed: 7th July 2017
North West End Rating: ★★★★