All the way from Australia, The Tap Pack are a distinctive group that, as their name suggests, mix the format of The Rat Pack (a term originally coined to refer to a group of well-known crooners - Frank Sinatra, Dean Martin, Sammy Davis Jr. and others) with tap dancing. The four boys, Thomas J Egan, Jesse Rasmussen, Max Patterson and Ben Brown, were introduced ingeniously the only way they know how, through dance with individual solo sections.
The stage was presented as a bar throughout the show presenting opportunities for flair bartending, and the use of props such as snooker cues. The bar itself cleverly unfolded to become stairs at various points, creating different platforms and levels. All the changes in set were extremely slick, and worked into a storyline at times. The show was kept fresh throughout through the variations in set, style, props, lighting, and everything in between. Each number was a new spectacle to behold.
Dressed in dapper suits, The Pack never dropped in energy or pizazz. They worked tirelessly throughout the evening to entertain, and there is no doubt that they succeeded. The boys worked well as a team with polished choreography at every turn, and continuous banter between them all providing comedy, usually at poor Tommy's expense. There was also ample opportunity for each of The Pack to showcase what they were made of through solo numbers including some breath-taking improvisation.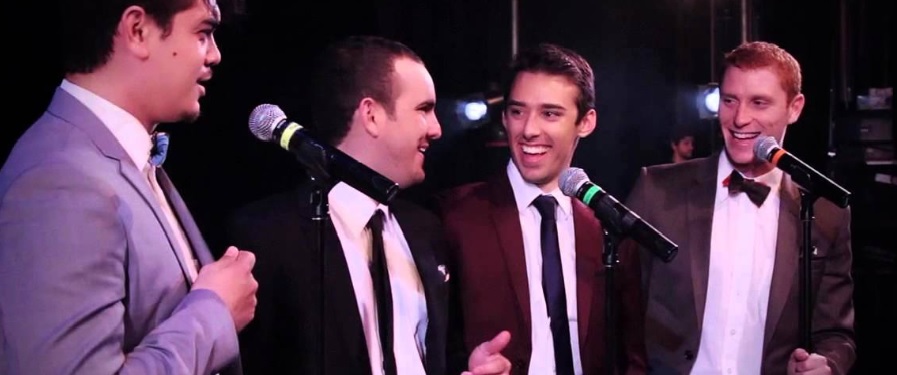 The Rat Pack element was realised through several Jazz numbers sung by all the boys, but with particular lead by Ben who established himself as excellent a singer as he was dancer. There were several numbers with big band style backing, some numbers with just piano which complimented the sound of the taps superbly, and perhaps the most impressive of all, the numbers with just taps and body percussion. The Pack got the audience involved in making beats, encouraging them to click and clap where appropriate.
A particular highlight was the Old Western stand-off inspired piece, where white lighting on the floor keeping the upper bodies in almost darkness drew extra focus to the feet, which appeared to talk to each other, communicating solely through tap. Another noteworthy number was the incredibly inventive busking number, where The Pack showed how they would perform by creating their own music and beats when busking on the street without any backing music.
Altogether, a charming evening of old school fun with four cheeky, characterful and talented boys who held their own throughout. It was wonderful getting to watch four different personalities shine and dance with their own unique twist. The boys made every dance look so effortlessly cool, it definitely prompted a few audience members to leave thinking they would have a try at tap dancing in the foyer only to realise it's not as simple as they made it look!
Reviewer: Becky Mottershead
Reviewed: 23rd May 2018
North West End Rating: ★★★★