Originally produced in 1880 and perhaps one of the most popular of all the Gilbert and Sullivan production's, 'The Pirates of Penzance' has reminded me tonight that such a production can undoubtedly stand the test of time.
Performed by The National Gilbert and Sullivan Opera Company, this production simply had it all. Rich in comedy with hilarity and eccentricity around every corner, from the moment the curtains rose to the final scene.
The story is essentially about one of the Pirates of Penzance called Frederick, who left his merry band of pirates on his 21st birthday. Having only ever been at sea, he wants to discover what women (other than Ruth, who was his old Nurse) look like. He soon meets Mabel, daughter of Major General Stanley and his rather large family of unwed daughters. Fredericks keen sense of duty eventually poses a dilemma about returning to his life at sea.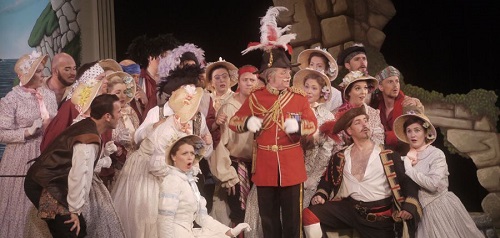 I doubt I'd be on my own in suggesting that Richard Gauntlett's part of Major General Stanley was simply spectacular. His flamboyance, eccentricity and consistent hint of fun, right down to his rather camp, pantomime style dancing was unforgettable. As Director on the production team also, his vast experience from the beginning of his career in the musical Barnum to performing in Beauty and the Beast in The West End have certainly enriched any performance he turns his hand to. At times I found I was unable to take my eyes off him as he dominated (appropriately) most of the scenes he was in.
Also, it would be remiss not to mention the mesmerizing Welsh Soprano, Ellen Angharad Williams as 'Mabel'. She was utterly charming on her debut performance with the company and she is certainly one to watch in the future. Her performances with the chorus girls was outstanding and her range of vocals incredible. In direct comparison, with very strong vocals the part of Ruth, performed by Mezzo Soprano Mae Heydorn complimented this production beautifully in many of the scenes with the pirates- her vocals demonstrated amplitude and precision and her voice assisted her characters performance greatly.
The Pirates of Penzance opera requires an outstanding orchestra to match the quality on stage. The National Festival Orchestra led by Sally Robinson certainly delivered in abundance. Having worked with many orchestras including Northern Philharmonic, English National Ballet and Manchester Concert Orchestra she led the orchestra this evening effortlessly.
The set was simple but did not really need to be elaborate as the costume almost took over any set backdrop in the vibrancy and colour on stage. The pirates wore costume in an array of vivid colours and the chorus girls dresses and white umbrellas when they first appeared on stage was most effective.
If you are novice to Gilbert and Sullivan and are not sure it is for you, I would urge you to not be put off and give it a go. You will not be disappointed. The audience will consist of avid supporters who have seen such productions many times. However, there is a genuine warmth from such a production and I would suggest that The Pirates of Penzance is the most perfect way to experience all the finest aspect of a Gilbert and Sullivan production and The National Gilbert and Sullivan Opera Company are undoubtedly the ones to deliver it.
Reviewer: Angela Kelly
Reviewed: 31st July 2018
North West End Rating: ★★★★