This year trombonist Chris Barber (OBE) celebrates his 65th anniversary as a professional band leader and 70th anniversary of his musical career overall. To mark these momentous achievements, The BIG Chris Barber Band are touring with a celebratory concert. The ten-piece band consists of Nick White, Ian Killoran and Bert Brandsma (clarinet/saxophones); Mike Henry, Peter Rudeforth (trumpet); Chris Barber, Bob Hunt (trombone); Joe Farler (banjo/guitar); John Day (bass); and John Watson (drums).
Dressed in dapper suits and bowties, the gentlemen set a sophisticated tone to the evening. The performance began with the whole ten-piece ensemble on stage doing what they do best and making music together. Barber then took care to specifically introduce each member of the band, before a smaller six-piece ensemble performed to feature the individual musicians further. This format was adapted as the concert went on, with different combinations of the ensemble performing at any one time with slick transitions. The band made a truly wonderful sound together, and the intricate solos highlighted throughout the evening showcased the extent of the incredible talent on the stage. It was refreshing to witness a concert celebrating every single musician including the rhythm section - the gentlemen happily passed the spotlight around their fellow comrades and stepped back to let them have their moment.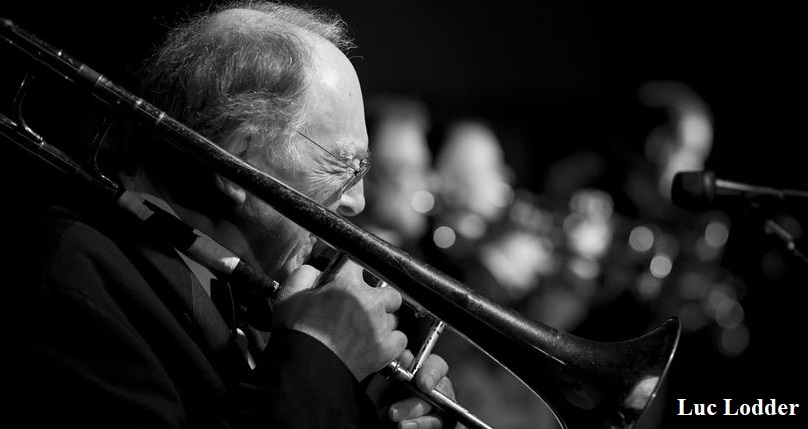 The concert programme varied from New Orleans Jazz to Blues, and there was a heavy influence from Jazz Great, Duke Ellington. Coupled with Barber's anecdotes, it was a true masterclass in Jazz. Particular highlights were 'Bourbon Street Parade' which included vocals from Barber and Rudeforth; 'Hot and Bothered'; and the stand out piece has to be their version of 'When the Saints Go Marching In'. The standard of music performance was consistently high throughout the concert and never faltered. There was not a piece of sheet music in sight as all the music was performed from memory. It was incredible to see the ease with which some of the musicians swapped between their many instruments. A special mention must be made of Bob Hunt who provided superb arrangements for the band - the ten-piece ensemble produced a full and ample sound, and not one detail was lost in translation.
The BIG Chris Barber Band made the whole evening look effortless. It was pure Jazz music with no distractions or gimmicks, just talent. A nostalgic performance for many audience members, and a charming evening all round. Barber held the audience captive from the moment he walked on stage, it is not difficult to see why he is still entertaining 70 years on. Long may Chris Barber and The BIG Chris Barber Band continue!
Reviewer: Becky Mottershead
Reviewed: 20th September 2018
North West End Rating: ★★★★