The Christmas lights are up in Buxton and there is a festive spirit in the air. The Russian State Ballet and Opera House returned to the Buxton Opera House to a packed audience. This touring company* offers accessible productions that celebrate the traditional Russian staging of ballet favourites with a full orchestra; 'Giselle' does not disappoint.
Act 1 opens with simple staging, as we find ourselves in a quaint autumnal village. There is a sense of peace that will soon be threatened by the arrival of selfish male desires. We witness Hilarion, a local gamekeeper, leave fresh flowers at the door of his desired quickly followed by Albrecht, a nobleman, lingering at the same door. The object of their affections? Enter Giselle, the young village girl who yearns to dance but whose mother worries over Giselle's weak heart.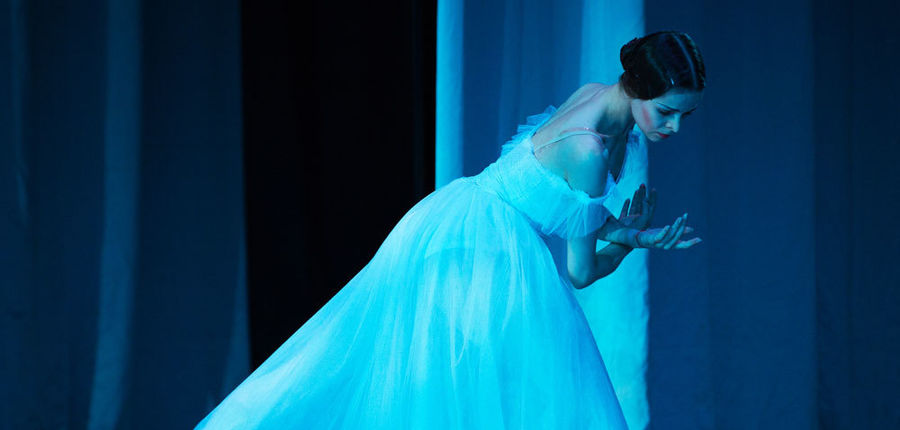 Giselle dances with a gentle immediacy, appearing almost as a Snow White figure in her pale blue tutu which she recognises shows her lack of standing. Albrecht's wooing of Giselle reflects his own selfishness and self-importance as well as Giselle's naïve innocence. Hilarion's jealous revelation of who Albrecht really is, results in Giselle's heart breaking. There is a real pathos in how Giselle presents her internal trauma in her dying moments.
If Act 1 felt whimsical, Act 2 is full of drama as we are introduced to the forest where nobility and wealth hold no standing. Here, the magnificent Myrtha and the Wilis, haunting spirits who have all been abandoned, rule. The visual intensity of this section is hypnotic. Myrtha holds court over her own spirit girls and the combination of movements gives her dancing an expressive depth.
Hilarion is driven to dance to his death by this sinister swirl of ballet blanc. The choreography is magnetic. The reintroduction of leitmotif of the 'he loves me, he loves me not' is delicately tragic. Giselle final scenes allow a sense of forgiveness as she ensures Albrecht is allowed to leave the forest and she regains some peace. The image of Albrecht left to stand in the light of dawn as he realises he has kept his life due to Giselle's complete love for him is tender.
Adolphe Adam's music is performed consistently by the orchestra; the string sections are particularly evocative. Bolshoi Ballet Soloist Konstantin Uralsky's production ensures the choreography is aligned with the subtleties of the music and the result is spellbinding.
Reviewer: Catherine Kiernan
Reviewed: 24th November 2018
North West End Rating: ★★★★
*Due to the touring production's ensemble cast and a lack of clarity in the programme we are unable to confirm the lead cast names on the night.