Writer and performer Max Dickins has fast made a name for himself on the fringe circuit over the past few years. I had the pleasure of reviewing the final night of his last play "The Man on the Moor" which I absolutely loved. Dickins is clearly a gifted writer, exploring the human psyche with humour, grounding and a warm simplicity which many lose when writing tragedy.
It's so exciting and surprisingly rare to see a male playwright create a two hander for women; with 'Kin', Dickins has taken a step back from the stage and created two great parts for two great actress'.
'Kin' is a snapshot into the lives of two estranged sisters, who reunite on the evening of their father's death in a remote part of America. The lighting is dim, the stage sparse except for a large table scattered with booze and their father's belongings; the atmosphere is suffocating.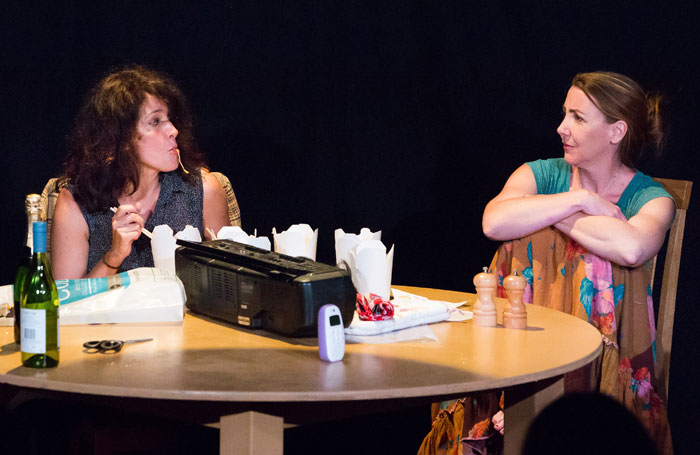 Abigail Burdess and Kate Alderton are both excellent in their respective roles of Sarah and Lilly. They are believable as sisters, finding joy and moments of childish playfulness in their shared memories of childhood whilst also living the anguish and distance their twenty years apart has given them with truth and subtlety.
There is a lot packed into this piece, this family seem to have had a really rough ride. The musical interludes and well-placed humour offer breathing space but it does become a little like an episode of Eastenders at times with one disaster following another resulting in this climatic hour. The two sisters have taken completely different paths; one pursuing a career and the other a family. I think this is the most interesting and current element of the piece.
The sound effects of the father in the next room are a bit clunky but this is easily fixable. I enjoyed the moments of music and this could have been used even more. Their father's tape player is placed weightily in the middle of the table and I would have enjoyed further nostalgic exploration of his old music collections to inspire more anecdotes from the sisters' early life.
Dickins has succeeded in straying away from his usual style (although he is missed from the stage). This is a bold and solid tragicomedy with strong writing and excellent performers.
Reviewer: Robyn Grant
Reviewed: 25th August 2018
North West End Rating: ★★★★