NewsRevue is in its impressive 40th year at the Edinburgh Fringe. They return year on year performing in bigger venues, to bigger audiences. This year they can be found at Udderbelly, the biggest of the Underbelly venues.
The show comprises of 4 performers and an on stage pianist. The only set is 3 chairs that are used to create a variety of locations and situations. For the majority of the performances the actors wear just black. Meaning that when someone did come on with a costume it was flamboyant, over the top and highly relevant to the situation. There wasn't one moment when the audience didn't burst into laughter when a new character entered the stage.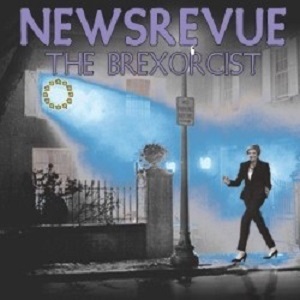 The show is a whistle stop tour of everything current in the news. The majority of which is told through song and dance. It features the expected things such as Brexit, Trump, Straight Pride and Global Warming. Along the many wonderful, unexpected and clever situations thrown in. The cast frequently tell parts of stories in very witty ways and use unusual situations such as being a contestant on mastermind.
The 4 performers are all incredibly talented. Each member of the cast plays multiple roles and their impressions are spot on. Not one actor stood out from the rest as the standard throughout the company was so high.
The show is fast paced, well-choreographed and a joy to watch. The audience were all howling with laughter and some even showed their appreciation with a standing ovation. Everyone will find something they love in this show - even if current affairs isn't their strong point. You will leave with a smile on your face and singing new lyrics to your favourite songs.
NewsRevue continues in Edinburgh on various dates until the 26th August. https://tickets.edfringe.com/whats-on/newsrevue
Reviewer: Ellie Close
Reviewed: 4th August 2019
North West End Rating: ★★★★★