From Heaven to Hell returned following its nomination for the best drama 2017 Fringe Awards bigger and better with a longer script consisting of two acts and an additional character under the direction of Sue Jenkins who not only creates beautiful and talented children but also has the ability to turn anything that she touches into gold as this production is most definitely a golden nugget.
The play is based on true events and is dedicated to the 21 officers and 449 men from the 1st Salford Pals who were killed during the first hour of fighting in the battle of Somme in 1916.
The story is based on real friends and colleagues from Salford who are recruited to join the army in the First World War, naively and coerced for a shilling they sign up for the same platoon 'The Salford Pals'.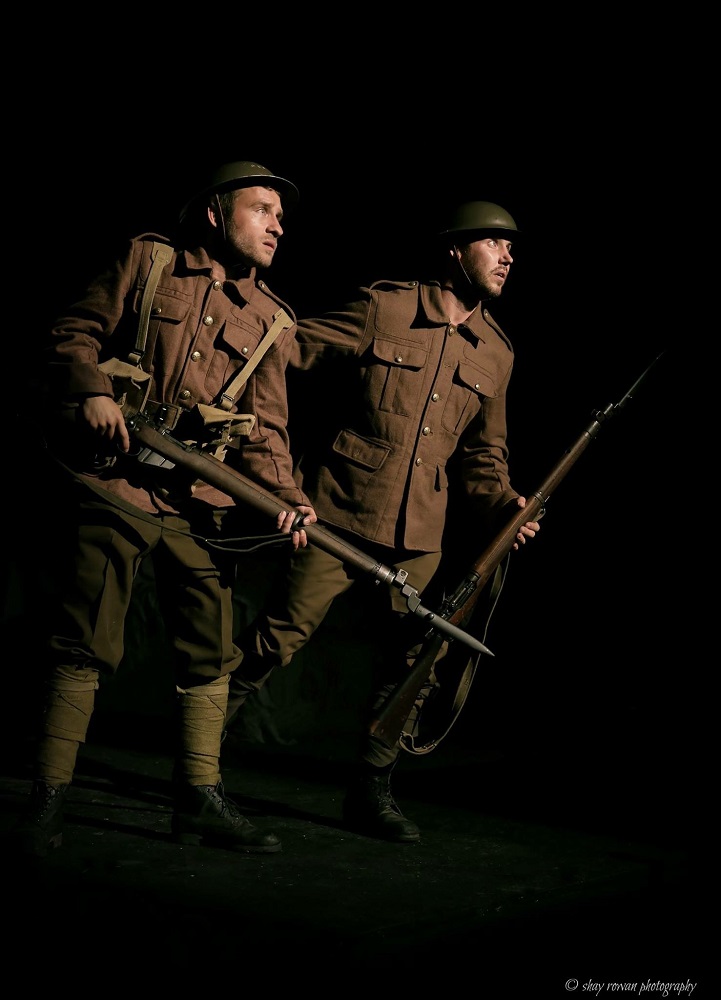 The strong cast of 8 take you through tales of each character from the youngest aged 17 years old to the eldest at 30years enabling the audience to understand each individual and connect with their plight and motivation. But the strongest message is that of two touching love stories and the difficulties they face due to war of John Harper (Writer of the play, Danny Clifford) and William Jones (Peter Ash), John who has recently fallen in love with Mary (Emily Jones) a beautiful lady who had been left blind after an abusive relationship but finds trust and love in him and William a happily married man to Betty (Caroline Wagstaffe) a strong lady who keeps the home fire burning whilst her man is away at war.
During their men's time training under the instruction of the fierce Sergeant Hunt (Sean Chriscole) Mary finds herself pregnant and waits for John returns to marry and legitimise their unborn child and Betty left riddle with guilt for sending her husband off to war to keep a roof above their heads joins the female workforce and enrols in a rubber factory making parts for gas masks as she waits for William to return safely.
The controlling and power driven Sergeant Lunt takes an instant dislike to both of the men making their time training and in the trenches an extremely difficult one, William struggles with the pressure of sleep deprivation and the war that is engulfing him and begins to crumble under the strain. There were some lovely heart-warming moments as you see the Salford Pals pull together and help each other through this torrid time showing strength and bravery, but equally displaying their vulnerabilities and fear of not returning to their families due to their impending death and slaughter on the front line.
Danny Clifford has clearly evolved this fantastic masterpiece from the original script making it harder hitting and even more heart -wrenching of the plight of this senseless war that saw so many young men lose their lives, we see just how cruel war is both for those left at home and for those who volunteered to fight for their Country.
Huge credit to Danny Clifford and the rest of the crew for their tremendous interpretation of the events which were beautifully acted by each and every individual on stage, special mentions must go to Alex Slater who played Fergus Finney for his outstanding delivery and vocals also to Emily Jones with her impeccable vocals and convincing performance as a visually impaired character.
I truly hope that this magnificent and heart-wrenching play finds its way to mainstream theatre as it has the potential to be a timeless masterpiece that encapsulates how futile and pointless war is.
November 11th marks the 100th anniversary of the end of the First World War, a timely reminder of the courage and heroism shown by both men and women during this deadliest conflict in the history of the human race where the total number of both civilian and military casualties is estimated at around 37 million people and how we must never ever forget our fallen heroes.
Verdict: "A Magnificent and heart-wrenching play"
Reviewer: Katie Leicester
Reviewed: 9th July 2018
North West End Rating: ★★★★