Paisley takes place in a girly bedroom. The scene set is intimate, inviting, homely, feminine and romantic. Piles of clothes are strewn across the floor. There's an ornate fireplace, chintzy- yet tasteful wallpaper, it really is impressive and a great deal of effort and thought has been put into the interior design, down to the family photos in an alcove.
This is one of the hints that there is an artistic slant to the play. The first was the intricately designed bags that were in the foyer on arrival. They got me thinking as they were eastern, Japanese and Indian. I asked if they were connected to the play and apparently they were.
I had admittedly read the blurb and had thought I knew exactly what to expect. The story telling of four women set in a bedroom environment. However I was to be pleasantly surprised and proved completely wrong. Paisley was so much more. 100% unique, clever and inventive, this play, uses theatre in a very different and thought provoking way to tell a tale of women's strength against the odds.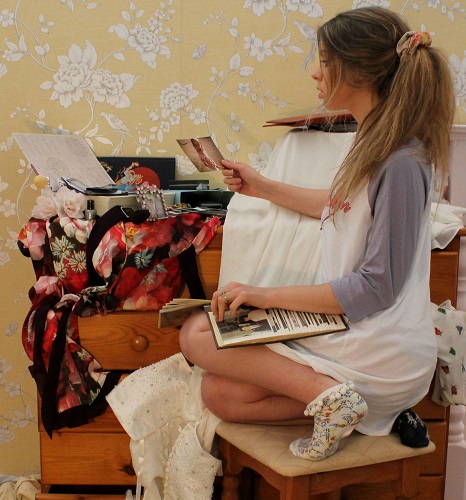 Paisley the character, brushes her hair at her dressing table, in waltzes her mother who we are told gives, 'cringe, inspirational speeches,' that are inappropriate at the best of times, she wears a lavishly embroidered kaftan. Other characters are friends Gaby and Kira who are there to support her on her wedding day.
The first 'life story,' is Paisley's mother, which is dramatically told through Bollywood style dancing, banging Bhangra beats. Despite the wonderful high energy movement there is a serious message of dowries, war-torn countries and different cultures oppression. Expect the unexpected, there are cows bearing banners, whirling dancers and bags worn around the head. This is brilliantly unique and engaging story telling like you've never seen before.
The props are truly stunning; from the Japanese puppet show with beautiful handmade puppetry, using fabric and paper to achieve maximum impact, to the long flowing blood red scarves, attached to the actors hands. Kira's story is one of pain, suffering and domestic violence, what starts out as romance, quickly turns sour. The 'monster' mask was particularly impressive, and powerful in its representation of the psyche – animal within of domestic violence.
The final story by Gaby is beautifully sung with haunting lyrics in Spanish, as she struggles with her sexual identity and discovers, thankfully, she is not alone.
There's a real positive message about this performance, about surviving in the face of adversity by close female friendships, and mother – daughter relationships.
Paisley ending is a surprise one, but the best message of equality. I would highly recommend this Greater Manchester Fringe performance as it is delivered in such a unique warm, magical and innovative way. I couldn't help thinking how great this would look on a stage in a theatre, although I loved the intimate venue of the Leaf cafe. Go see Paisley, great all women cast, that packs a powerful punch.
Reviewer: Rachel Foster
Reviewed: 15th July 2018
North West End Rating: ★★★★