On arrival I knew the play was going to be like no other I'd seen before. A cowboy greets me western style– (Howdy Madame) outside a 'Pop-Up Saloon,' and quite frankly I don't feel like there's an option to leave as he hustles me in like a bewildered sheep. Thankfully there are other people inside what turns out to be the Bobtail Saloon.
Neil Young's 'Heart of Gold,' is blaring out and there's an intense card game going on, whilst a 'Yankee' bartender (Dan Brazier), yells out to come and get your whisky. It's not for the faint hearted.
Death by Pie is the theatre group, so called for a love of comedy and pie. Set up by Nathan Smith and Hannah Hobley (Benidorm) in 2014, they come tonight to perform as part of Greater Manchester Fringe.
The opening scene is brilliant, perfectly timed slapstick comedy, using physical theatre and cheesy homemade signs bearing the actors names put me straight into the Dukes of Hazard (original) mixed with Monty Python. The actors are second to none, putting their all into perfect 'Southern,' accents, hilarious facial expressions and extremely clear faultless performances. Their voices carried so well, despite the fact being in a car park often the traffic threatened to drown them out.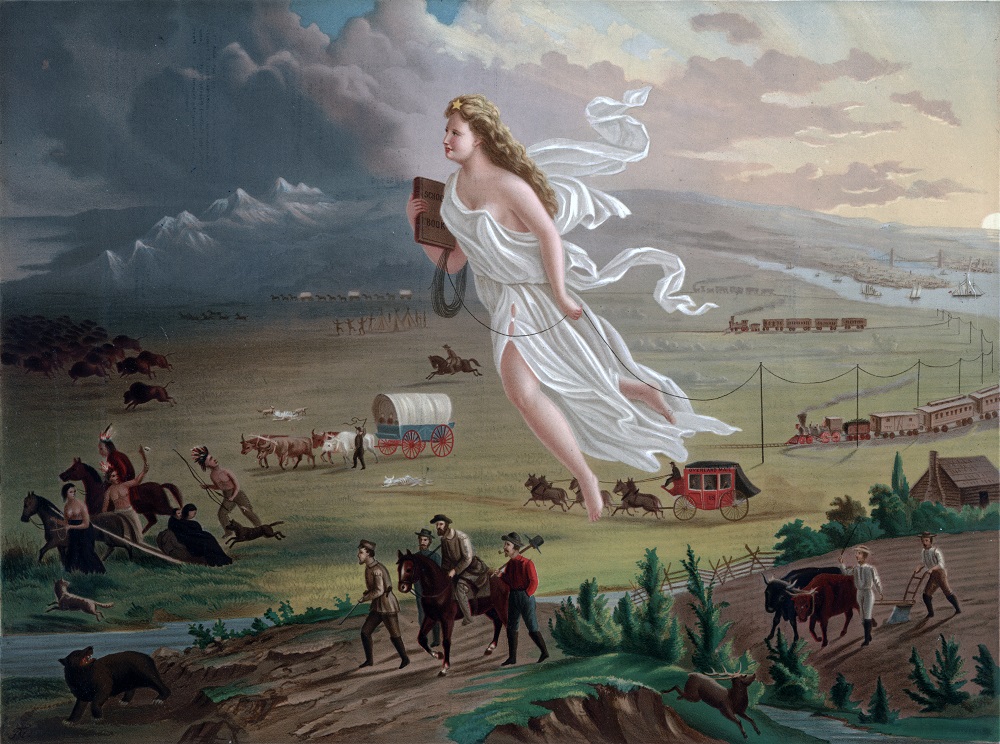 Westernized is completely unique and mesmerising throughout. I found myself singing along to the many ridiculous songs, including 'the West is the Best,' where the routine was very coordinated 'Steps' style, to the actors forming together to represent a horse drawn wagon.
At times it had a feel of a silent movie, with the pace of it and the melodrama. However the cast have successfully satirised some of the more 'cringe' points of the West, to get their story across, which is essentially a good vs' evil moral tale.
Nathan Smith's guitar accompaniment, plus a triangle, mouth organ and cymbal being used to create atmosphere and build-up the plot and it added to the play's charm.
Hannah Hobley as do the rest of the cast takes on a diverse number of characters, she's a scary Wife with a Pitchfork, and a funny if slightly crazy Lil' Jimmy. James Beglin is memorable as Eli Jones, who seems to be stuck in a rut with a repetitive saying. They brought the characters to life, believable and powerful comedy slapstick performances. Roisin McCusker made a surly Sheriff Grant Torino as well as Shooter Sue and Bad Layla. Scott Hodgson takes on the fantastic role of Painted Crow who is seeking revenge for his mother and yes there is an actual storyline despite all the high jinks. There's some corking one liners, 'I'll be back at dusk,' that build tension and some more hilarious songs, 'Get out of here cos no one really cares.'
Like a crazy western, budget soap opera, Westernized hurtles along at a million miles an hour, we see the seedier side: cathouses, high poker stakes, guns and whisky, but of course this makes for riveting viewing. Go see for an antidote to the polished world of Netflix, Westernized comes as a welcome relief.
Westernized runs at the 53Two saloon until the 28th July. www.greatermanchesterfringe.co.uk
Reviewer: Rachel Foster
Reviewed: 19th July 2018
North West End Rating: ★★★★