Every so often, a piece of theatre comes along which is unexpectedly outstanding and tonight's performance of "A Different Way Home" presented by 1974 Productions was just that – and more.
I had no expectations but within minutes of the show beginning, I knew that this was something very special indeed.
The first half is Leslie's story. His mother, with whom he has lived all his life, has recently died. He is relating the recent events to an unseen visitor. The second half is his sister Maureen's story. It becomes apparent that there is no love lost between them and they both have different perspectives on the all too obvious family divide that has clearly led to bitterness, regret and guilt.
Written by Jimmie Chinn, this is a story set in a Northern town and the humour and way of speaking is typically Northern – and therefore familiar and warm. Some of the phrases put me in mind of things that Victoria Wood might have written and even though the subject matter is quite sad, there is much laugh out loud humour. The content is riveting and compelling and my interest was held right from the very start.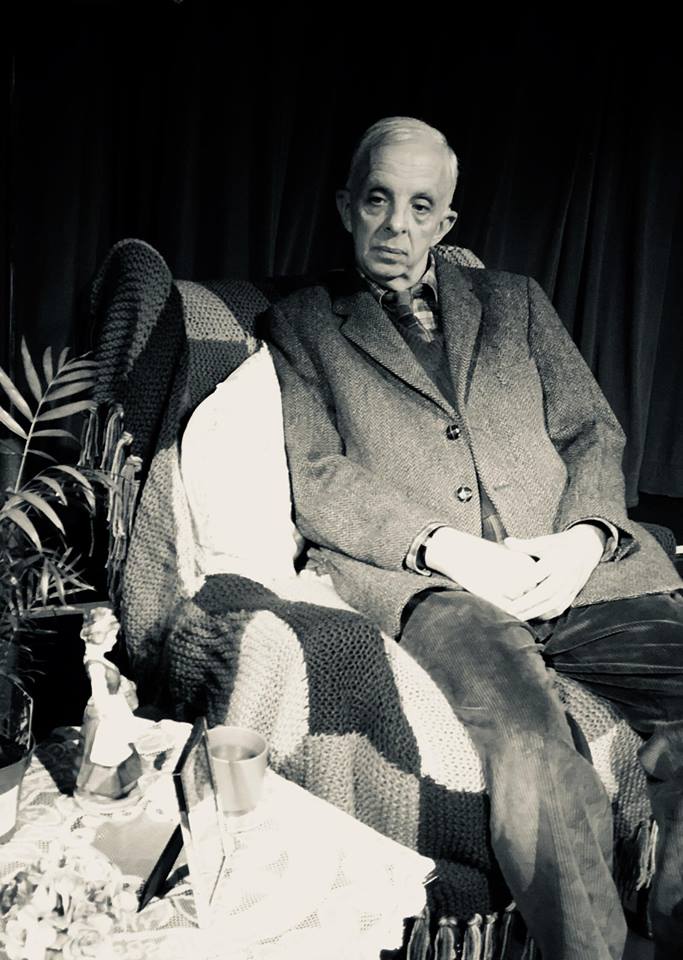 I believe that the Director of "A Different Way Home", James Schofield, wanted the audience to feel as if they were sitting in Leslie's living room and he achieved this completely. I was sitting on the front row and I really felt as though Leslie was addressing me, so much so that when he became emotional, it took all my self-restraint not to reach out to him and hold his hand to comfort him. Leslie (and Maureen) addressed the audience as the unseen third party and would engage eye contact at various times and speak to most of the people on the front row. Usually I would find this intimidating, but I was completely absorbed in what he was saying and it felt natural for him to be addressing the audience and holding eye contact in this way.
There is only one performer in this production – Darren Scott. He is an absolutely exceptional actor and one of the best I have ever seen. Obviously, he plays both Leslie and Maureen and I am awe-struck by his ability. He is an artist in the truest sense of the word. He is astoundingly convincing. I found him to be immediately interesting and engaging and I wanted to hear what he had to say.
Leslie is clearly very lonely and desperate to tell the unseen visitor about the recent events surrounding his mother's illness and death. He goes into painful detail about her last hours and although there is some humour woven in, it is achingly full of pathos and irony. He seems quite upbeat and chirpy but as most people will identify with, it's the small, seemingly insignificant details which are the most upsetting and make his voice crack with raw emotion. At one point, he does cry. I found this extremely upsetting as it was so real – his emotion and the way he dealt with it felt totally authentic and it seemed wrong to be watching and doing nothing.
Maureen is mentioned every so often by Leslie and it becomes clear that there are typical family issues and much resentment. I found myself disliking Maureen already and pre-judging her as from what Leslie was saying, she stayed away and did nothing to help either him or his mother.
By the end of the first half, I felt quite emotionally drained!
The second half belongs to Maureen. Yes Darren is in a dress with a handbag and earrings but it is extremely well done and at no point did I feel that I was just seeing Leslie in a frock. He was 100% Maureen and completely different to Leslie. Their characters and the way they spoke and talked about things were completely different. Maureen had some absolute killer lines which had the
audience in stitches – someone else could have said them and they wouldn't have had the same impact but Darren's pacing, timing and intonation were spot on and perfect. Even though there was much bitterness and cynicism, the tone and phrasing was comedy genius.
There is a slight twist in the second half which adds to the overall feeling of pathos and I didn't see it coming.
This is Northern writing at its absolute finest, not to mention breath-taking acting and marvellous direction. There was no clumsy exposition at any point, it flowed naturally and beautifully. It is a very sad story and you get a sense of wasted lives but there is also a great deal of wonderful humour.
This play could be an excerpt from many people's lives and is probably something that most people are able to identify with. The trick is in making it interesting and not just a depressing tale of woe from beginning to end. Job done!
The set was simple but was everything it needed to be to set the scene. We are in Leslie and his mother's living room and the props are well chosen and appropriate.
This is truly magnificent theatre, crafted to perfection and full of pathos and humour, just like all the best Northern writing. I was genuinely sorry when it was over.
If you only see one thing in the Greater Manchester Fringe Festival, make it this. You won't regret it. My theatre companion stated, "I won't forget this in a hurry" and I couldn't agree more. I implore you: do not miss this nugget of theatre gold!
'A Different Way Home' is on at Guide Bridge Theatre on Sunday 22nd July at 2.30 pm and at The King's Arms on Wednesday 25th July at 7 pm.
Reviewed: 21st July 2018
Reviewer: Nicky Lambert
North West End Rating: ★★★★★