Anyone having been to a party from birthdays to weddings will more than likely be familiar with the song 'The Time Warp' a DJ's choice, guaranteed to get everyone onto the dance floor, so I was slightly intrigued to see the musical from which it came from. There is a film and TV adaptation too of which has gained a huge cult following since it was first written in 1973 by then out of work actor, Richard O'Brien.
Despite this I have to admit to not really being interested in the Rocky Horror Show as I believed it to be a sci-fi and B horror movie mix and neither particularly appealed, so it was with little enthusiasm I attended this musical this evening at the Winter Gardens, Blackpool. From the start I felt underdressed or maybe that should be overdressed as all around me other theatre goers arrived clad in corsets, boas and fishnet stockings (that was the men!) usherette outfits, mad professors and replica outfits of the majority of the cast in the show!
Steve Punt as narrator was brilliant who with perfect timing, responded to the many who shouted out from the audience in what at first I thought were hecklers but far from it, it was just those who knew what was coming next having seen the show before and they almost became part of the script and actually added hilarity to the show.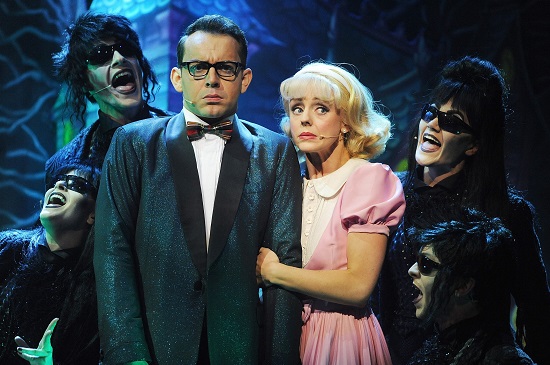 The story briefly tells of young sweethearts Brad (Richard Meek) and Janet (Haley Flaherty), newly engaged and on a trip to visit their former science tutor Dr Scott (Paul Cattermole). Unfortunately there car breaks down during a thunderstorm (isn't there always one in a B movie?) and they need to go for help. 'Fortunately' they arrive at a castle (convenient) and hope to use the telephone to ring for assistance but from the minute the door is opened by hunchbacked butler, Riff Raff (Kristian Lavercombe) you know this young innocent couple are in trouble! As the maid Magenta (Kay Murphy) and Columbia (Sophie Linder-Lee) join the butler, the couple become uneasy and try to leave, but the arrival of the owner of the castle puts a stop to that and introduces himself as Frank-N-Furter (Liam Tamne) a sweet Transvestite from Transsexual Transylvania. Cue song 'Sweet Transvestite' and an absolute stunning performance from Tamne (a former contestant on the Voice in 2013). Before they know it Brad and Janet are stripped of their wet clothes and given laboratory coats to wear and taken down to the laboratory where Frank is keen to introduce them to his creation of the perfect man, Rocky Horror. Oh swoon! Dominic Andersen has the looks and physique that absolutely make him that perfect man, even if he is wearing leopard print Speedo's (there are some things you can forgive)!
Throughout there is copious sexual innuendo and a bizarre plot but amazingly it all works extremely well due to an absolute fantastic cast with each and every one of them giving outstanding performances in acting, dancing and revealing some amazing vocals. There are so many songs that deserve mention from Brad's rendition of 'Dammit Janet' to the emotive 'I'm Going Home', in all honesty every song is relevant and brilliantly performed. I could not fault a single performance and yes, I even joined in with the iconic pelvic thrusting 'Timewarp'. (As did all the audience I hasten to add!)
The set was cleverly designed ensuring quick and smooth changes between scenes and the sound and lighting was 'spot' on (pun intended) with perfect timing and giving some amazing effects and all this supported with an outstanding band who were hidden from view for much of the show above the set.
My overall favourite performance was the charismatic Liam Tamne, who has completely won me over with his exceptional portrayal of Frank-N-Furter and I don't think anyone could play the part better. I could now possibly become one of the cult followers and I am already considering booking to see this again very soon. Not bad considering I hate Sci-Fi and B rated horror movies. The opening lyrics. 'It's Astounding' (from Timewarp) could not be more fitting of the Rocky Horror Show, is simply a scintillating 'sexsation' not to be missed!
The show continues at the Winter Gardens until Saturday 1st October 2016 and for further information and tickets: http://www.wintergardensblackpool.co.uk/movies/rocky-horror-show/
Reviewer: Lorna Weekes
Reviewed: 27th September 2016
North West End Rating: ★★★★★
Photo: Dave Hogan