Jumpers For Goalposts written by Tom Wells focusses on a LGBT football team, Barely Athletic, competing in the Sunday League with varying degrees of success. Oldham Coliseum along with director Chris Lawson have assembled a highly talented team on stage that shine from the opening scene until the last.
The play, first performed in 2013 is split up into a number of sections each beginning with the day's football scores being read out by announcer Cliff Burnett. Set in a locker room the stage is filled with benches, lockers, in fact everything you'd expect to see. Authentic in its look credit should go to Anna Reid.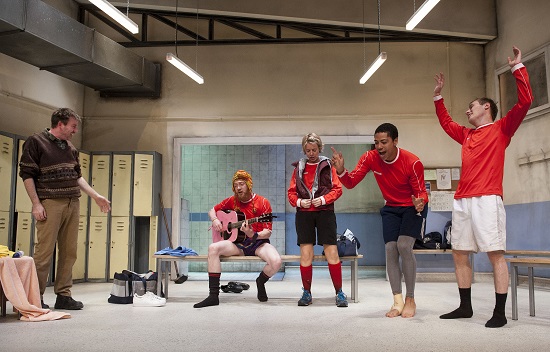 Team captain and probably the most passionate member of the team is Viv (Sally Carman), a pub landlady who uses her experience from there to handle the men on the team with her straight talking post-match talks which don't leave anything to the imagination. Effective they are not, however Carman's stage presence is likeable and captivating.
Graeme Hawley as Joe is the odd one out in this team as the only straight member and brother in law to Viv. His position as goalkeeper doesn't seem to be his calling but Hawley's extensive experience on the stage shines. Despite his downtrodden and bedraggled look, he wins the audience over with some excellent comedic lines.
Will Mytum and Luke Bailey as Luke and Danny respectively are superbly cast. Whilst Bailey is confident with his sexuality the same can't be said for Mytum who plays the shy Luke with ease and charm. The way their relationship progresses during the evening is both hilarious and heart-breaking. The writing from Tom Wells for me during these scenes was some of the best in the show.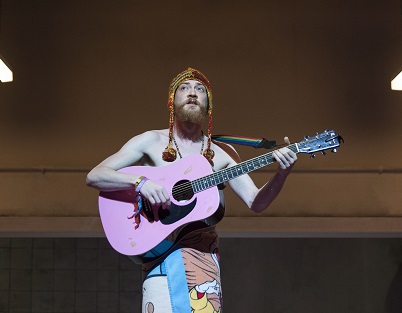 Last and by certainly no means least Beardy (Geoff) is played by Adam Barlow. Loud and opinionated throughout Beardy is living life to the full and embraces his sexuality. An incident some time before we see the first scene has deemed it necessary for him to wear a bobbled hat – at all times, this of course becomes a long running joke with his fellow team mates. For me personally Barlow was the star of the show tonight showing not only his acting skills but also the fact he is an accomplished guitar player and vocalist.
There are lots of things I like about this show. The superb cast, simple yet effective set and superb writing makes you laugh out loud one minute and tugs at the heart strings the next. What did let it down somewhat were the transitions between scenes and its associated lighting. A small niggle which does not detract greatly from yet another superb production at the Oldham Coliseum.
Reviewer: Paul Downham
Reviewed: 7th October 2016
North West End Rating: ★★★★