Rehearsal for Murder adapted for the stage by David Rogers and written by Richard Levinson and William Link (writers of TV's Murder She Wrote) is presented by the Classic Thriller Theatre Company, a new venture for Bill Kenwright after a decade of plays touring with The Agatha Christie Theatre Company.
Alex Dennison (Alex Ferns) is a playwright and on the first anniversary of the suicide of his fiancée and leading lady actress Monica Welles (Susie Amy), he invites the same cast and crew who were performing with her on that fateful opening night of his last play back to the same theatre. Obviously still troubled and unable to come to terms with Monica's death there are flashbacks to the plays after party and the disastrous reviews it had had received.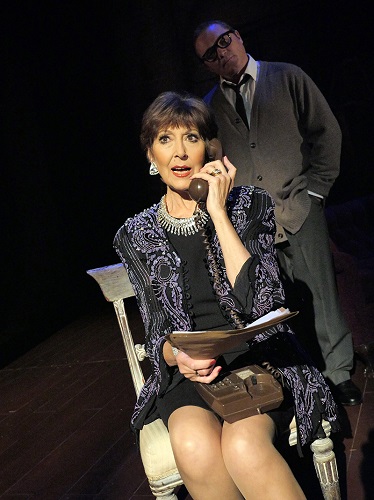 Alex has a new play and hands out scripts to those gathered, but as the readings commence it becomes clear to them that it is based upon that evening one year ago and that Alex believes Monica to have been murdered as his new play highlights the similarities to that fateful night. There are twists and turns as each and every one of the performers read their parts and there are real motive for why they may have committed her murder and link them to it..... but surely this was an obvious suicide? the reason was there, the police investigated. Apparently Monica was upset over the reviews and jumped from the 10th floor balcony of her apartment and you begin to feel sorry for Alex's struggle to accept her death and his determination to find a murderer.
Much of the play is set backstage in the old theatre where they all last met together and swiftly changes to Monica's apartment with the removal of a couple of dust sheets. It blended in very well with the Grand Theatre Blackpool's' surrounds and you were drawn into the set. The cast are familiar faces of several TV programmes including Casualty and Holby City, Coronation Street and with Ferns who played the villainous Trevor in Eastenders. Sophie Powles, former Emmerdale's Holly Barton, provides some light hearted moments with her portrayal as understudy Karen Daniels. Accomplished actress Anita Harris performs as Bella Lamb, the previous unsuccessful plays cash injector and producer and adds the style and glamour.
Sadly there is little drama with this play and it was slow to gather pace and there is no real big build up to the final scenes although the outcome may surprise some. It is enjoyable but won't have you gripping your seats.
So is this a 'whodunnit' or the ramblings of a man overwrought with grief? For the sleuths amongst you make a visit to the wonderful Grand Theatre, Blackpool where the present run continues until Saturday 5th November 2016. For tickets and more information: https://www.blackpoolgrand.co.uk/
Reviewer: Lorna Weekes
Reviewed: 31st October 2016
North West End Rating: ★★★
Photo: Keith Pattison