I have always been a big fan of Willy Russell. He is an expert at writing great roles for women, roles that are empowering and funny and have the story and script to last the test of time. This can be seen in Rita from Educating Rita, Mrs Johnstone in Blood Brothers and of course, Shirley Valentine which celebrates its 30th birthday next year.
Shirley Valentine is the story of a 42-year-old married mother of two grown children who are stuck in a cycle of cooking dinner for her husband who doesn't appreciate her, playing the robot mum to her children and working as a cleaner. She is living an unfulfilled life. She dreamt of traveling, being an air hostess and living a life without regret.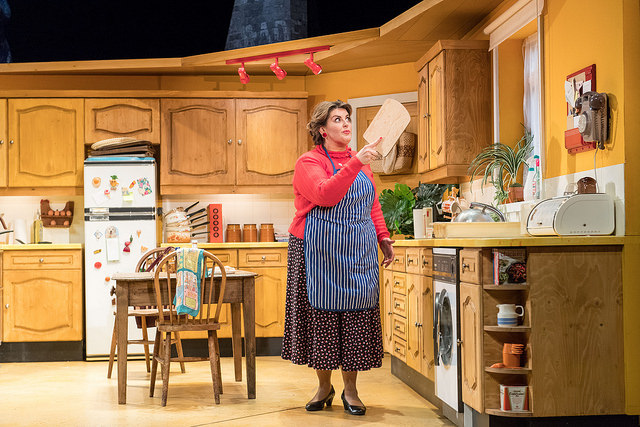 When her friend Jane announces she is going to Greece for two weeks, Shirley is both saddened and jealous of her friend until Jane produces a ticket for Shirley to join her. This leaves Shirley with a difficult decision - do what you want to do for the first time, or what you are obliged to do as always?
Shirley Valentine has aged very well. It takes an exceptional script and a great actor to hold an audience during a one-person show and both Willy Russell's beautiful script and Jodie Prenger's skilled portrayal of the eponymous Shirley did just that.
Prenger's performance was both captivating and sparkling, drawing out the humor and emotion that makes Shirley Valentine such a likable and relatable character. She held the audience throughout the two hours of the play which is not an easy task.
The one down side was Prenger's accent. As a Liverpudlian, there were elements that weren't right. It wasn't bad by any stretch and I am sure anyone from outside of the city wouldn't have noticed it as readily, but in an audience full of locals, that seemed to be the only negative amongst a raft of positives about Prenger's performance. It felt a little bit like she was trying to be too much to be like Pauline Collins version of Shirley Valentine, especially vocally, rather than finding her own version of this amazing character.
Even with the accent slips, this was a great production, and Prenger delivered a strong, funny, enthralling and compassionate Shirley Valentine. With natural direction from Glen Walford and simple but effective set designed by Amy Yardley, this was a perfect antidote to a wet Autumnal evening.
Reviewer: Helen Kerr
Reviewed: 18th September 2017
North West End Rating: ★★★★