East Is East is a key British movie which at first glance appears to be a light-hearted look at a dual heritage family struggling to find their place but this very timely revival of Ayub Khan Din's play reveals a much darker heart despite plenty of laughs along the way.
George 'Genghis' Khan is the classic self-made immigrant running a chippie in 1970s Salford but rules his family using a mix of emotional and physical violence. Caught in the crossfire are his long suffering wife Ella and their seven children who are all in different ways exploring what is like to be a mixed race family in a community still coming to terms with multiculturalism.
The children band together mocking each other in the war zone that is their home as their father uses his faith as one part of his failing attempt to control a family he clearly loves, but has no understanding of them or their needs.
Although set in a very different time East Is East still makes pertinent points about the clashes between parents keen to impose a world they understand on a new generation who won't be told what to do, and want to exercise control over their own choices.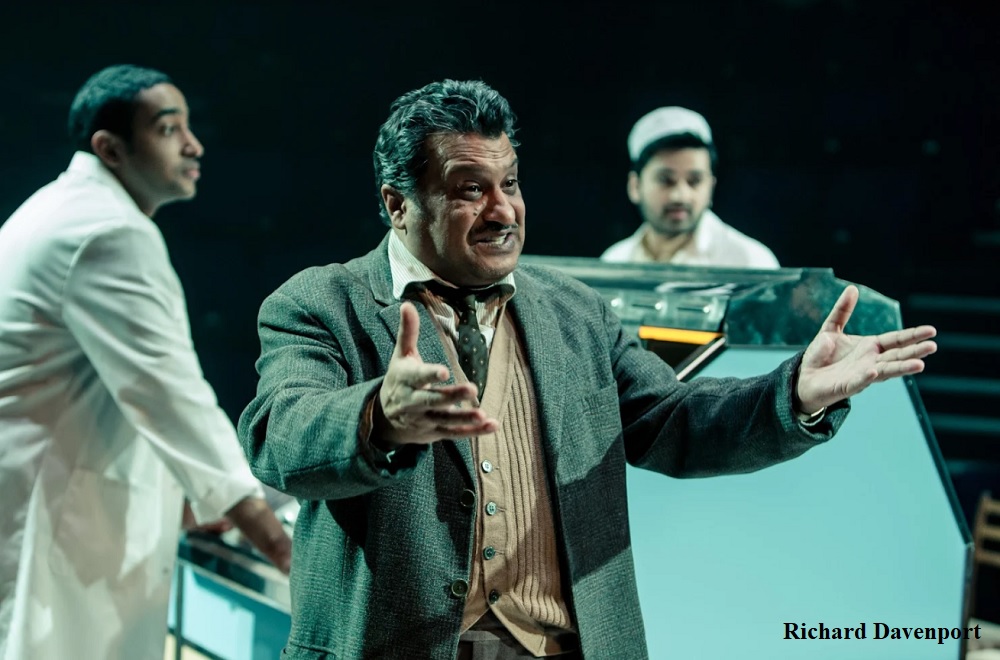 This is also a work about family and the unique, often fraught relationship you find in large family groups which is beautifully expressed by all the actors during the excruciating scene when George tries to marry two of his boys off to the hideous daughters of one of his bigoted friends. Or as Ella acidly puts it 'selling them off' before showing the bigot the door sparking an outburst that changes the family dynamic forever.
Goodness Gracious Me star Kulvinder Ghir bravely cuts through George's bluster to the angry, frightened little man lashing out at a world and family he either understands or can control. His piety is only one of the weapons he deploys to try and master a family that has been set free to make their own minds up by Ella's love, and his performance has echoes of another pathetic bully in Gary Oldman's brutal Nil By Mouth.
Casualty veteran Jane Hazelgrove is simply sensational as the selfless Ella deftly trying to balance the needs of her family with that of a multi-layered culture clash they are all struggling to pinpoint their place in. Her comic timing is spot on making most of some great one liners, but she also unpeels the pain of protecting her kids from the man she loves despite his flaws, and a world that she very clearly sees doesn't quite accept her children
It would disingenuous to single out any of the younger cast Akshay Gulati (Tariq), Mitesh Soni (Abdul), Jatinder Chera (Saleem) and stage debutant Uzair Bhatti (Menner) who all perform with real intensity bickering away in the family chippie that is wheeled on and off Amanda Stoodley's clever 1970s styled set. That said, Shila Iqbal's foul mouthed and feisty Meenah is great fun as is young Rohan Macleod's confident turn as Sajit running around causing havoc in his filthy anorak.
Octagon regular Ben Occhipinti gives his strong cast plenty of space to develop their characters drawing out plenty of laughs and insights between the outbursts of anger and violence.
Ayub Khan Din was in the audience to see a cast with no weak link do justice to this modern classic, but more than it is a reminder that while we have made much progress it will also too easy to slip back if we allow the siren voices seeking to divide us to poison our thinking.
East Is East is at Bolton Octagon until Saturday 14th April. To book 01204 520661 or This email address is being protected from spambots. You need JavaScript enabled to view it.
Reviewer: Paul Clarke
Reviewed: 19th March 2018
North West End Rating: ★★★★