Lipstick on Your Collar is one of a plethora of nostalgic revival, (take me back to the good ole days) tours currently doing the rounds in the UK. A dizzying array of numbers will be laid out before us, played and sung by a live band, with numbers all from the 50's and 60's, from the likes of Connie Francis, Buddy Holly , The Beatles and the Everly Brothers.
The opening moment was really fun with an old fashioned style American screen set up with voiceover to make you feel as if you were at a Drive In movie. The band (think suited early Beatles) take up their instruments and there's an authentic feel as though you were watching a live performance of 'Ready, Steady Go,' or one of the other retro pop shows that were on television back in the day. Singer Nicola Seeking-Smith completes the line-up, dressed resplendent in 50's gear and bouffant.
Smith's vocals were extremely impressive, it was obvious she was enjoying every moment and rocking her socks off with musicality set at a very high standard. However for me the show never really took off.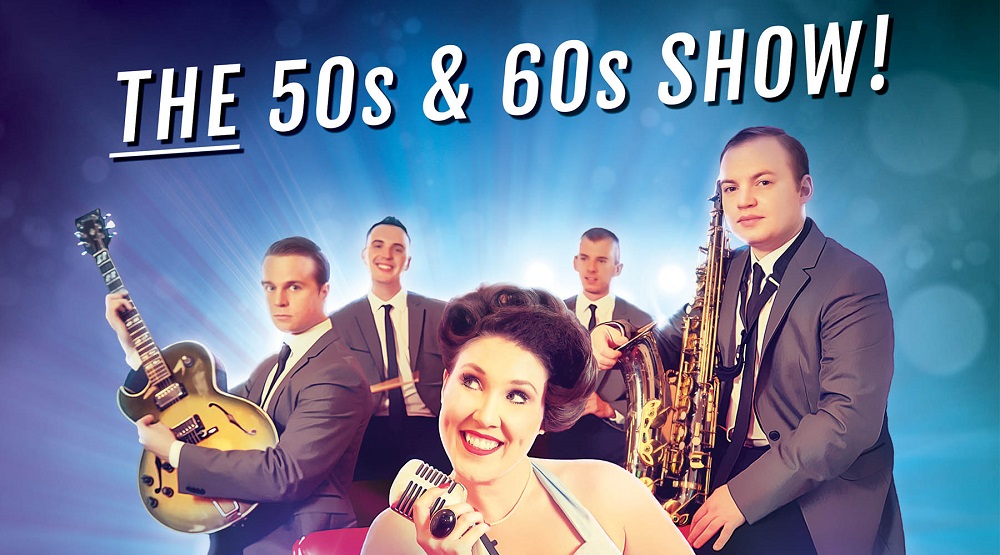 It spent longer in the 50's than expected and it was all a little samey, and not very dynamic. Yes you can't deny the perfection of the vocals and instrumentals, but at points I found myself enjoying it more when the singer was not on stage, and the band launched into a Beatles number. I get the feeling that the singer is happier in the 50's as her dress and vocal style suggest.
The atmosphere around me in the audience was very flat, even though it was made up of majority people who had been around in that era, for me it just lacked pizzazz and if I'm honest was waiting for it to end. It seemed a far cry from the crazy dancing in the aisles we had been promised and a little lack lustre. It would have bettered from more variation in content, perhaps less bombardment of songs and a chat with the audience otherwise you might as well be listening at home. The screen at the back of the stage seems so overused of late in many shows and it's beginning to grate. Starting to show a lack of effort on the production side and imagination.
All the songs included were originally sung by stars of yesteryear that more often than not had great personalities and character in their own right; somehow this was taken away tonight. Songs are thrust at you at such an alarming rate like a factory churning them out. I would prefer less numbers and more interaction and variety to give it more texture and reduce the blandness levels that overwhelmed the mood of the night.
Reviewer: Rachel Foster
Reviewed: 2nd February 2019
North West End Rating: ★★★