'Has-been' Hollywood 'star' Jefferson Steele played well by Barry Ashworth, is lied to and deceived by his agent and thinks he's off to take the role of King Lear in the Royal Shakespeare Company's version of said play in Stratford-Upon-Avon however he's actually going to play him, in an amateur community production in a small English town. Expecting a fancy hotel with a health club, private cinema, fresh flowers daily and an En-Suite bathroom, the actor finds himself in a bed and breakfast owned by one of the cast with a shared loo.
Rehearsing Shakespeare in a barn was well below him and his arrogance and he was not afraid of letting people know, but, as always good will out and it proves to be the making of him and whilst being among the enthusiastic locals, he slowly rethinks and comes to see his life in a whole new way.
His daughter plays a huge role in his change of heart when he almost loses her, twice.... This role of Jessica Steele was played confidently by Sara Worswick who held her American accent well throughout.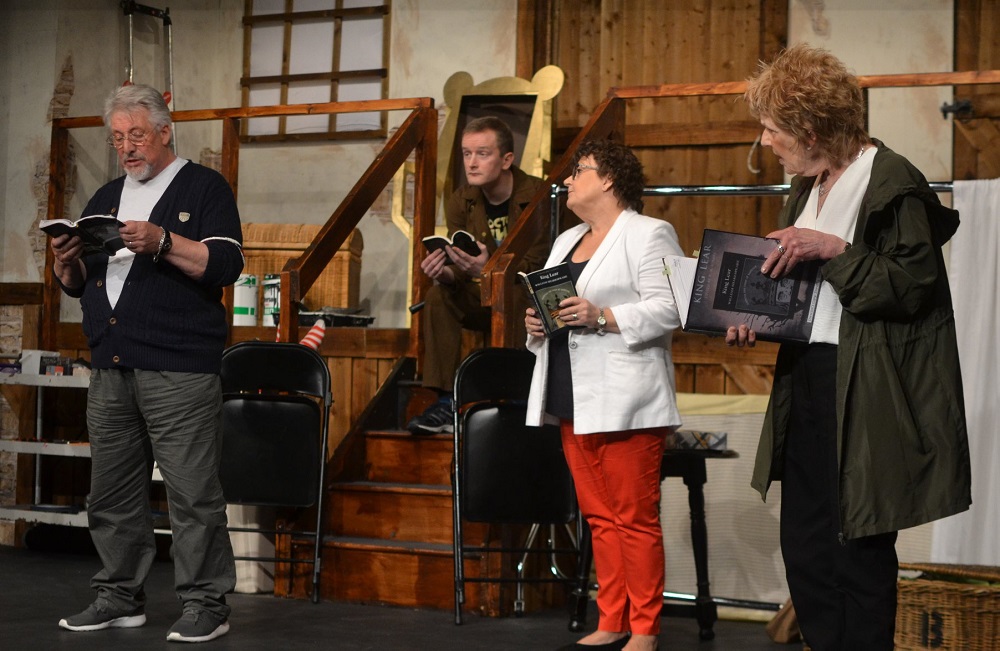 Our hard working director and advocate for the failing little theatre was Dorothy Nettle, portrayed by Sue Hilton. Sue's comic timing and facial expressions were super and her character blossomed well.
Nigel Dewbury, played by David Walker, was the absolute pompous "I've done it all" and "I can do it all" character that can often be found in amateur theatre, and played him to a tee... His diction perfect and well-acted throughout.
Lovely performances also came from Moyra Dobson Welch as Mary Plunkett, with her flamenco dancing and flamboyant costume, and Leonie English whose character Lauren Bell was so charming. Denis Dobbins was played by Alan Livesey and played well – his deadpan expressions whist delivering some very funny one-liners was brilliant...
The cast of 7 were joined on stage by 6 ladies who sang in the scene changes, presumably to detract from any set noise, however, although their voices were lovely, it was extremely difficult to make out just what the lyrics were they were singing... I have an idea that they were all Shakespeare Sonnets to music, but just couldn't make them out or understand the necessity. But lovely voices.
If there is one little nitpick I have, please see it as constructive. I'm going to slightly contradict myself here by saying this but please bear with me – please quicken up the pace of the conversations but slow down the dialogue, project and speak up – in some places, because of the speed of dialogue, we lost what was being said...
Stage/Tech: The set was simple but yet well put together. This was a one set piece and it was used well.. The walkways in front of the stage also worked to their advantage... Lighting was basic but worked. I'm not sure if there were stage microphones - I do believe that the thunder was too loud as we struggled to pick up on "Jefferson's big speech".
Hair and costumes were as they should be a non period, every day set and the 'play' costumes were superb.
This was an ensemble piece and was done well. Hopefully, just a few opening night nerves – and we all get them... After all, aren't we all just 'A BUNCH OF AMATEURS'?
Reviewer: Hazel Bumby
Reviewed: 17th June 2019
North West End Rating: ★★★