"Did you hear the story of the Johnstone twins, as like each other as two new pins? How one was kept and one given away. How they were born and they died on the self same day"
This evening I was at the beautiful Liverpool Empire to see the timeless, Liverpool based musical, Blood Brothers.
Willy Russell's Blood Brothers debuted in Liverpool before transferring to the West End for a short run in 1983. After a yearlong national tour it was brought back to the West End for a revival, where it eventually played for more than 24 years, playing more than 10,000 performances. The story follows fraternal twins Mickey and Eddie, who were separated at birth, one being raised by a wealthy family and the other a poor family.
We open with the end scene of the show and a short verse of 'Tell Me It's Not True', then taking us back in time to the beginning where the story unfolds in front of us.
The set is very simple but effective and very well used. Two rows of terrace houses that stay there throughout the show, with different background cloths and bits of scenery flown in or brought on and off making the story flow with ease and seemingly little effort.
The first character we meet is the Narrator, played by Dean Chisnall. The Narrator is on the stage throughout the whole show and as well as telling parts of the story, he also acts as the other characters conscience. Chisnall has an amazing stage presence and you spot him at different places on stage where he commands attention, whether it be with a song, just a look or the creepy music that accompanies him. Chisnall has a wonderfully powerful voice which is perfect in 'Shoes Upon the Table', a song which is sung, varying lyrics, throughout the show numerous times, building up each time to add tension to the piece.
Next up is the loveable Mrs Johnstone, played by Lyn Paul. This is a part Paul has played numerous times and you can feel this character is in her bones. She adds such love to the part and every ounce of emotion into her. The standout part for me was 'Tell Me It's Not True' at the end of the show where you could see and feel full emotion and real tears. Outstanding.
Mickey and Eddie were played by Sean Jones and Joel Benedict respectively. Benedict plays Eddie wonderfully. Eddie is brought up wealthy and quite posh and this comes across extremely well in the way Benedict plays him. The audience have a soft spot for Eddie, as even though he seems to have everything, he is naive and in a way very lonely at times.
Sean Jones as Mickey absolutely stole the show for me. He goes from playing a seven nearly eight year old to a "Madman on the rampage" by the end. The voice on this guy is unreal and he has some of the best acting qualities I have ever encountered in my life. He portrays every emotion, one minute you love him, then dislike, then you're feeling sorry for him. To be able to go through the transformation Jones goes through every show is a credit to him and I applaud him.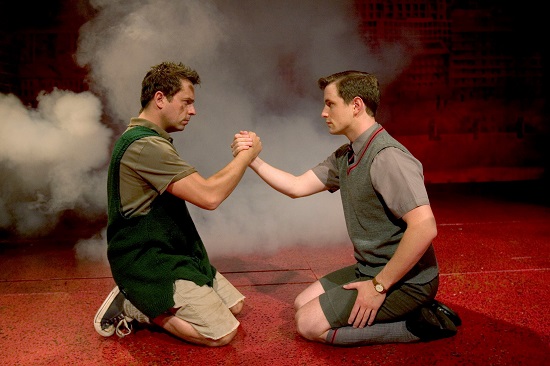 This really is a full company show with the other cast members playing numerous parts and making them all so individual. Well done all.
The role of Mrs Lyons, Eddies mum, is played by Sarah Jane Buckley. I have seen this show numerous times but not until I seen Buckley play Mrs Lyons did I really understand the character. She is such a troubled character and is portrayed perfectly, sometimes slightly neurotic. When Buckley sings 'My Child' early on, you really start to follow her journey and this song shows how beautiful a voice Buckley has.
Linda played by Danielle Corlass and Sammy played by Adam Search added great comedy to the show. Their comic timing was brilliant and they certainly delivered a great show throughout, again from children to full grown adults.
Directed by Bob Tomson and Bill Kenwright, you can see how passionate they are about the piece being told by the end result. The audience loved it and through their tears, showed their appreciation by a full standing ovation before the lights even came up for the bows. Very very well deserved.
Lighting was provided by Nick Richings and was perfect throughout, especially effective during 'Miss Jones" and "Madman" really creating mystery and atmosphere. Musical direction by Phil Gostelow, the music was delivered wonderfully and perfectly.
Set against the backdrop of Liverpool, this show goes through love, poverty, loss but most importantly it's a story of friendship and an unbreakable bond.
"Do you want to be my Blood Brother?"
If you have not seen this show, I urge you to do so while you can. If you have seen it, go again.
Running until Saturday 1st October 2016 at the Liverpool Empire.
Reviewer: Damian Riverol
Reviewed: 20th September 2016
North West End Rating: ★★★★★
Photo from previous tour.