Riotous Comedy with a Modern Twist
Dominic Hill's revival of Sheridan's 1775 comedy of manners, The Rivals, is a joy to behold as it sets off a number of themes including love against money, old against young, and reason against emotion as, with a malapropism never far from her lips, Mrs Malaprop (Julie Legrand) looks to marry off her niece, Lydia Languish (Lucy Briggs-Owen), to Captain Jack Absolute (Rhys Rusbatch) with the endorsement of his father Sir Anthony Absolute (Desmond Barrit), a man used to getting his way in all things and assured in the knowledge that no good can come of teaching young ladies to read. As if to prove that point, young Lydia's head is indeed full of romance from reading books and she has set her heart on marrying the penniless Ensign Beverley, little realising that he and Jack are in fact one and the same.
There is another love story running in parallel as we see Jack's over-sensitive friend, Faulkland (Nicholas Bishop), test his betrothed, Julia Melville (Jessica Hardwick) to the extreme and in contrast to the hilarity of the Absolute-Languish love match, serves to suggest that there is a seriousness to this love business after all. In fact, what this play highlights is the shallowness of society, particularly at the top, towards anything and everything including love. What makes this performance work so well is Briggs-Owen's superb TOWIE-like performance as a recognisably modern day spoilt brat who has it all but recognises the value of nothing. Rusbatch doesn't endeavour to compete with that, and nor does he have to, as he delivers an equally composed performance akin to the self-assured young male stars we see today. Bishop and Hardwick's triste just goes to prove that every teenage love angst has some cause, right or wrong.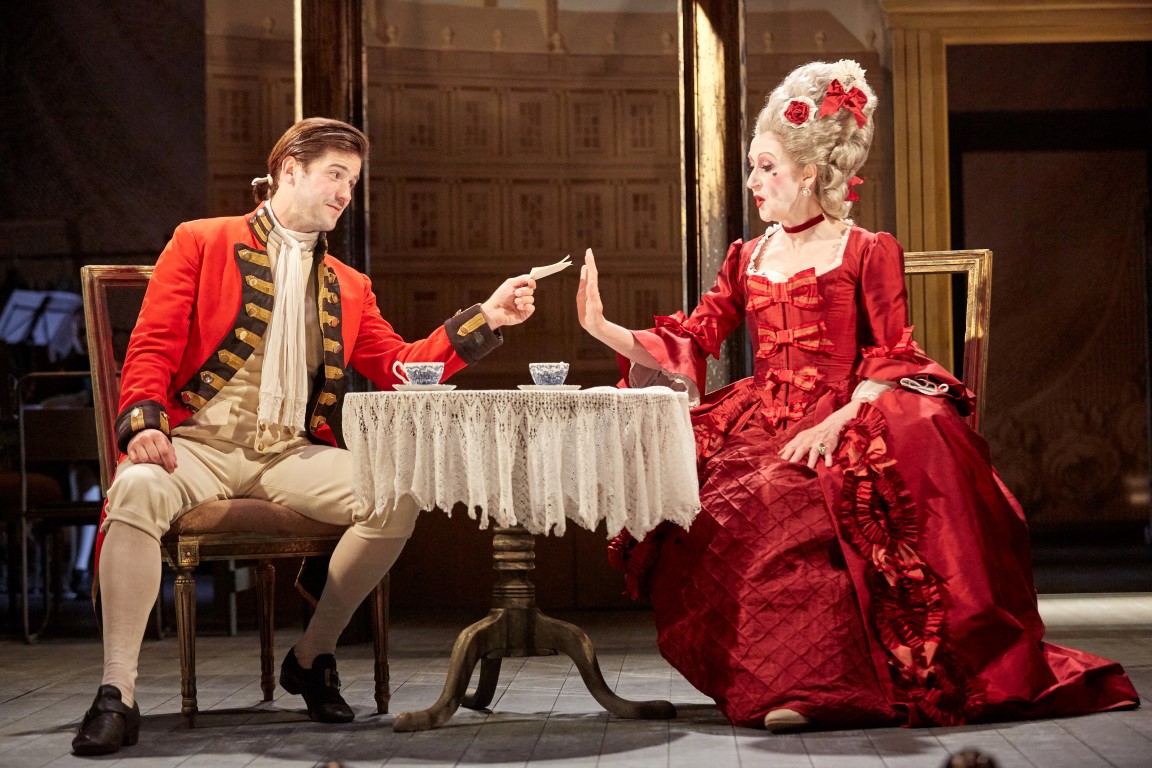 As with any good satire there are a number of intersecting storylines which are ably delivered from the servants – the loyal Fag (Shaun Millar) and the conspiring Lucy (Lily Donovan) – to the competing love interests – the forever Irish Sir Lucius O'Trigger (Keith Dunphy) and the hapless but well-meaning Bob Acres (Lee Mengo) – with Henry Everett providing a dual role of David and Coachman as well as an occasional turn on the keyboard. Throw in some masterclass performances from Legrand and Barrit and you will not be disappointed with a play that draws much from Sheridan's own life.
Tom Rogers' stage is one vast dressing room with rails of clothes on display and indeed both acts start with actors adjusting their wigs and posing for photographs, the latter point further echoed by the use of open picture frames as scene backdrops as well as forming the backs of chairs. With the addition of mirrorless full length mirrors in which the actors repeatedly preen themselves and the sight of cast members wandering around 'backstage' as the action unfolds, we are again reminded of the shallowness in what people choose to reveal about themselves. This point is cleverly echoed by the regular breaking of the fourth wall to involve us in scenes where typically we know more of what is going on than the characters themselves. It is easy to imagine an 18th Century audience laughing at the caricatures of people they knew only too well as much as tonight's audience were able to recognise their 21st Century parallels. The real question, and one which I believe this production directs us to, is how much we are prepared to admit that we are in these characters rather than just our friends and colleagues?
The often asked question is whether older plays can stand the test of time and be relevant today. This clever production proved that in this case the answer is a resounding yes as whilst the costumes and lines gave a distinct nod to the past, the fresh presentation in terms of set design and delivery gave us a portal to enter through. Whilst we can laugh at Sir Anthony's disparaging remarks about women and wonder at what went on in the 18th Century, only in the last week or so we have seen the rights and roles of women debated yet again across political and business forums - plus ça change, plus c'est la même chose. Overall this is a great comedy which rolls along, tongue ever firmly in cheek, as we slip from one apparent calamity to another before all is happily resolved in the end. Would you really want it any other way?
The Playhouse began life as the Star Music Hall in 1866 and became a theatre in 1911. In 2000 the Playhouse joined forces with the Everyman to become Liverpool and Merseyside Theatres Trust (LMTT) with Gemma Bodinetz (Artistic Director) and Deborah Aydon (Executive Director) appointed as joint Chief Executives in 2003. As well as the main theatre there is a small studio space seating up to 80. Further details http://www.everymanplayhouse.com/
The Rivals is a co-production with Bristol Old Vic and Glasgow's Citizens Theatre. It performs at the Playhouse through to Saturday 29th October 2016. Tickets available via https://www.everymanplayhouse.com/whats-on/the-rivals or the Box Office on 0151 709 4776.
Reviewer: Mark Davoren
Reviewed: 6th October 2016
North West End Rating: ★★★★
Photo: Mark Douet