Sister Act, directed and choreographed by the Strictly Come Dancing judge we love to hate Craig Revel Horwood and starring The X Factor star Alexandra Burke, is a feel good, smile inducing, theatrical treat from start to finish.
Adapted from the original film released in 1992, the stage musical follows Deloris Van Cartier's journey after she witnesses her no-good boyfriend Curtis commit murder which forces her to seek protection in the confines of a convent where she finds unexpected love and friendship from her fellow sisters.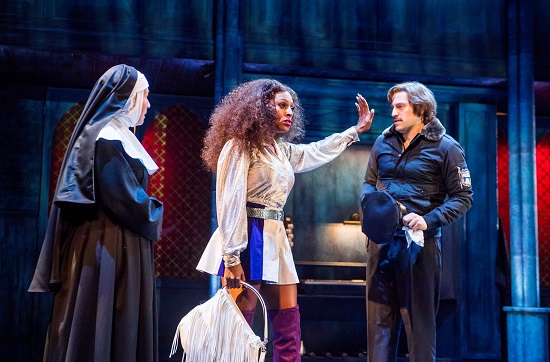 Burke, who shot to fame in 2008 when she won the fifth series of The X Factor, does not disappoint in this production and lives up to her diva potential (if not surpasses it.) Her stunning vocals guarantee goose bumps whenever she is on stage, but more impressively, her comic timing and ability to get a laugh from the audience every time is what makes her role as Van Cartier extra special. It is as if it was the role she was born to do, and she captures the character faultlessly.
Fans of the original Sister Act film, which was widely popular on release and is noted as one of the most financially successful comedies of the early 1990s, should not expect an exact replica of the film. None of the favourite Motown classics from the film are repeated in the musical and the well-loved rendition of 'I Will Follow Him' is sadly absent, however the musical numbers are continuously upbeat and at times comical, particularly good guy cop Eddie's performance of "I Could Be That Guy" and "Lady in The Long Black Dress" where the audience gets to witness Curtis's bad boy entourage attempt to woo the nuns.
The laughs are continuous throughout the show, often with thanks to Sister Mary Lazarus, played by Rosemary Ashe, who makes a rapping nun even more hilarious than it sounds. Sister Mary Patrick, played by Susannah Van Den Berg, also deserves a mention for her ability to make the audience laugh with ease.
The relationship between Deloris and Sister Mary Robert, played by Sarah Goggin, is particularly heart-warming and Goggin's performance of "The Life I Never Lead" is beautiful and a stand out moment of the production. The close chemistry that the cast share is clear to see and makes the show that more enjoyable to watch.
Time flies with this production of Sister Act. Some performances in the theatre can leave you uncomfortable, eager to leave your seat but Sister Act only leaves you wanting more and surprised at how quickly time flies when you're having fun. Burke received stellar reviews for her West End debut in The Bodyguard and she is set for similar success in this production. I recommend this show to anyone who enjoys feel good, easy watching comical theatre as Sister Act is exactly that. It runs on the Liverpool Empire stage until Saturday 15th October but grab tickets while you can because they're bound to be selling fast!
Reviewer: Sarah Goldsmith
Reviewed: 10th October 2016
North West End Rating: ★★★★★