Not knowing much about The Full Monty before entering the theatre, (except of course the promised nakedness) I wasn't sure what to expect. Would there be an actual storyline or would everything else be lazy and overcompensated by the use of naked men? Would there just be a theatre of screaming women (and some men too) as I sit awkwardly and watch some random men take of their clothes for two hours?
Thankfully, that was not the case. A touching story of a post-Thatcher recession, and one man's desperate, but somewhat misguided attempts to see his son, despite being laid off from his job and struggling with money. He is helped along the way by a mix-match of loveable characters, who may not be traditionally attractive, but, by the end of the show, had every member of the audience whooping and cheering.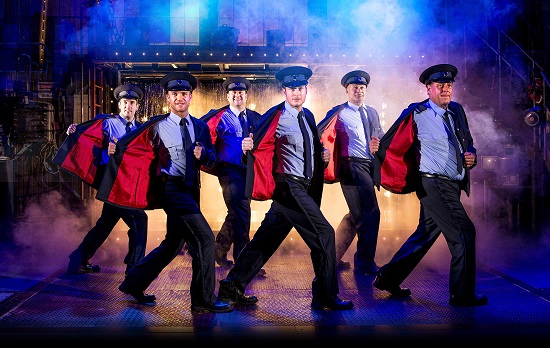 Our questionable "hero", Gaz, is played by Gary Lucy, who seems to struggle with his Sheffield accent which can be pretty awkward at times. Overall, however, he is a likeable guy and you really do root for him.
The rest of his stripping team consists of Andrew Dunn as Gerald who is a little tough going to begin with but becomes part of the gang as time goes on; the ironically named Horse, played by Louis Emerick who shows that the older man has still got it; Chris Fountain plays Guy, a comical, confident gay gentleman; Kai Owen, who plays nice but dim, Dave and Lomper played by Anthony Lewis who makes the chunkier man seem pretty attractive.
A special shout out has to go to Reiss Ward, who was tonight playing Gaz' son, Nathan. Easily the most talented and charismatic actor on the stage tonight. Although he seems to be the least professionally experienced of the children playing Nathan, I think the others would have a tough job being half as good as Reiss. He was captivating and believable and endlessly loveable.
The staging needs a special mention, as one set became easily versatile and instantly recognisable as each different venue through clever lighting, and the addition and movement of props. These transitions were done in character, as part of the story, which meant that pace and flow was never lost.
For a show that is about male strippers, there is a lot of heart, three dimensional characters and some pretty clever jokes. Contrary to my preconceptions, the humour was not based around tasteless, sexual puns, but actually made a lot of thoughtful, sometimes satirical, references to politics, feminism, class and homosexuality. Gaz' love of his son, Nathan tied the whole thing together and the whole cast was infinitely likeable (except Barry of course, Gaz' exes' new fella, but that is the point!), and you really did find yourself rooting for them the whole way through, despite their quirks and imperfections.
Aside from Gary Lucy's gratingly poor accent, the acting was spot on and I really cannot fault any other part of the show, except for one slight, unbelievable plot point: the men managed to plug in and play Flashdance on the projector quickly and easily. Everyone knows that projectors take forever to set up in the real world, even if you've used them a hundred times!
Reviewer: Codie Louise
Reviewed: 7th November 2016
North West End Rating: ★★★★