Top Notch Entertainment & Unadulterated Fun
It is a little-known fact that over 150 years ago, the site of the Liverpool Playhouse was once that of a successful music hall called the Star with a beautiful star-shaped mosaic in the current building's disused box-office area serving as one of the few reminders of this part of the Playhouse's history. Playwright Michael Wynne who wrote a warm-hearted family drama to celebrate the re-opening of the Everyman in 2014 has now performed a similar feat with this tribute to the heyday of the music hall and whose legacy today is seen in shows such as Britain's Got Talent.
Rightly billed as 'an entertainment' rather than a play, The Star simultaneously charts on-stage performances with backstage events using a mixture of catchy and witty music hall numbers (24 in total) to support and push the action on as it draws on the rivalry between performers, the Victorian melodrama of a stage villain and a love story or two thrown in for good measure as our cast of seven try to save the day.
Dame Ellen Bloggs (Eithne Browne) gets the show and the audience started with 'Don't Dilly-Dally' before compere The Chairman (Michael Starke) arrives to manage the proceedings along with an old gag or twenty-two before Arthur Crown (Danny O'Brien) has his first of many attempts at entertaining the audience with a new act. For the first time of many the stage reversed and we got to see the other side of these performers and their human frailty with all its worries and concerns on show as the return of Ida Valentine (Michelle Butterly) sets one heart a flutter and another all a rage. Dressing assistant Dora (Helen Carter) has love troubles of her own as we learn from her beautifully sung 'Are We To Part Like This, Bill?' without realising that the answer may lie in front of her in stagehand Jack (Jack Rigby). As love intrigues develop, as Arthur tries yet another act, as Dame Ellen brings new meaning to opera with 'I Want To Sing In Opera', one question remains: who is the mysterious and ever so drunk Mr Charles (Kevin Harvey) – 'Champagne Charles' – and what does he really want? Well by the interval we know all right as Capitalist Charlie comes to the fore amid a flurry of topical references.
A challenge to any production with a first act as exhilarating as this one is how do you get back up to that level when the audience have been distracted in the interval but director Philip Wilson has it nailed as a four-song sea medley has the audience rocking in the aisles with singing, clapping and laughter and this show is most definitely going on as we return to the plot and Ida's delightful rendition of 'I Was A Good Little Girl Till I Met You'. If there were marks for 'trying' then Arthur would be top of the class as yet another attempt at a new act falls by the wayside although it must be noted that it takes great skill to perform 'wrong', something which O'Brien and Starke have in droves as their slapstick routines demonstrated throughout the evening.
The challenges both on-stage and behind the scenes now come thick and fast as does the humour but more importantly so does the heart as we really want everything to work out for them. But does it? Well, that would be telling – what I can tell you is that this show puts the musical into music hall and it goes out with a bang. Oh, and an oar and a marrow - now that has to be worth seeing!
This was all round fun and entertainment at its best and much credit to all the cast who individually shone and worked together seamlessly. They played their roles to perfection whilst demonstrating a talent for song and dance as the Playhouse returned to its rowdier, less well-behaved roots. The fact that they all hail from Liverpool added to the delight with several local gags thrown in for good measure and an audience who remain engaged and vocal throughout.
Designer Matthew Wright has excelled himself with the sets, silhouette sequences and 82 costumes. Combining with 157 flying cues, choreographer Cressida Carré and Musical Director Alex Smith have hit the same heights with Lighting (Johanna Town) and Sound (John Leonard) following suit. If you ever wondered as to the appeal of music hall, and despite what you may have seen on television, then this production will show you: no matter what worries or pressures you may have going in, you will come out smiling and with a spring in your step.
From such wondrous beginnings, The Playhouse came into life as a theatre in 1911. In 2000 the Playhouse joined forces with the Everyman to become Liverpool and Merseyside Theatres Trust (LMTT) with Gemma Bodinetz (Artistic Director) and Deborah Aydon (Executive Director) appointed as joint Chief Executives in 2003. As well as the main theatre there is a small studio space seating up to 80. Further details http://www.everymanplayhouse.com/
The Star performs at the Liverpool Playhouse through to 14th January 2017. Tickets and performance times are available via https://www.everymanplayhouse.com/whats-on/the-star or the Box Office on 0151 709 4776.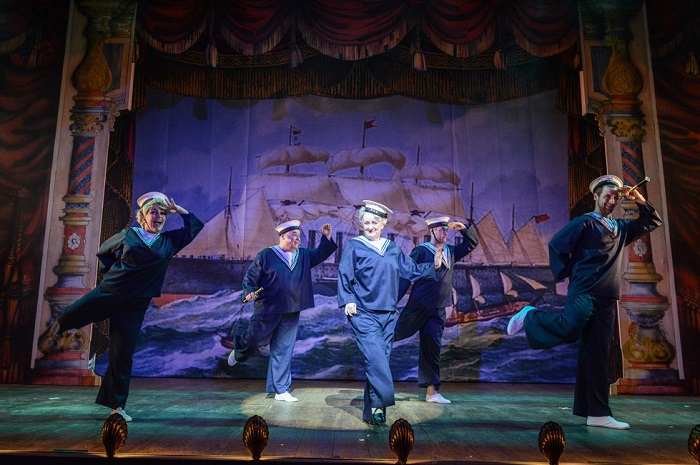 Reviewer: Mark Davoren
Reviewed: 13th December 2016
North West End Rating: ★★★★★
Photo: Robert Day ESC