A show you could watch 'All day and all of the night.'
This multi award winning musical tells us the story of how a small local band - The Ravens - became one of the 60s biggest bands - The Kinks. We were transported along the journey of brothers Ray and Dave Davies along with friends Mick Avory and Pete Quaife, from playing at school discos to having number one hits worldwide, including the many highs and lows they encounter along the way.
The stage looks mighty impressive as soon as you enter the auditorium with the walls covered in speakers, the band's instruments set up on stage and a runway coming out from the front of the stage. The stage didn't change main set wise but with the clever use of the occasional bed, chair, table, chandelier and props, it didn't need to change as you just knew where the scene was being set and the cast took you along with them on this epic journey, making you believe every word spoken and sung.
The way the Kinks songs were used in this show was phenomenal. Not only were they performed on a big scale as the band, but individuals used them during dialogue to move the story along.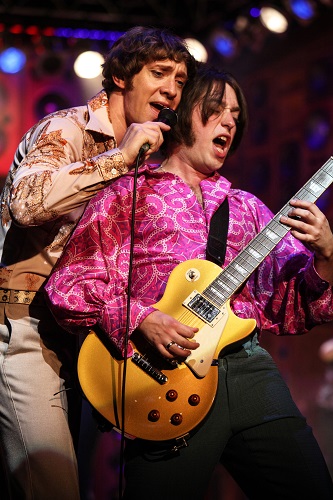 At first I was unsure what to expect, the show seemed like it was going to be slow and not too exciting but with a bang the show came to life and kept us fully entertained right through to the explosive, energetic and exciting finale. The whole audience were up on their feet, singing and dancing the whole finale through and this standing ovation was well deserved.
This show was about a mixture of characters who were all completely different, working together to create a special band.
The lead singer and song writer, Ray Davies, played by Ryan O'Donnell was superb, owning the stage from the moment he opened his mouth. His storytelling is perfection and he brings you along his journey with such ease and understanding. His vocals were something else sometimes singing so softly and sincerely the audience were silent in complete awe. Pete Quaife played by Garmon Rhys was brilliant. He felt like the outsider, scared and unsure, finally realising he needs the band as much as they need him. His character shines quite late in the show but you really feel for him by that point.
Mick Avory portrayed by Andrew Gallo had tonnes of personality and is extremely funny. His drum solo was outstanding. For me, Mark Newnham's portrayal of Dave Davies stole the show. I was a little unsure of him at first but within minutes he won me over. Newnham's energy through the show was phenomenal. His vocals were so powerful and he acts with such passion. He reminded me of the Kevin and Perry character Perry. Fantastic.
My favourite part was when the managers and band sung 'Days' a capella. Stunning and extremely effective.
Choreography by Adam Cooper was perfect. The mix of 60s moves with a modern twist was wonderful. There were some big routines but even the smallest of moves, tap steps and head turns were slick and had meaning.
When going for a minimal set you need great lighting and thanks to Rick Fisher we were not disappointed. With classics like Lola, Waterloo Sunset and of course, Sunny Afternoon, you need to see this show while you can.
Reviewer: Damian Riverol
Reviewed: 7th February 2017
North West End Rating: ★★★★★
Photo: Kevin Cummins