Jane Austen's classic exploration of regency relationships arrives at the Liverpool Playhouse this week. The show is a touring production of Regents Park Theatre's open air production (referenced in the leafy panoramic projection that wraps the stage) which transfers well to the Playhouse; where the grandeur offstage enhances the opulence onstage. Max Jones's impressive rotating set dominates the stage, the wrought iron creation echoing the gates of Regents Park and the two tier design allowing for the story's many changes of location.
There are some wonderful uses of the set by director Deborah Bruce; there are several incidences where the set's rotation allows the Bruce to draw the audience's eye to the reactions of several characters to a key moment. Sian Williams movement and Lillian Henley's original compositions keep the set changes fluid and bring the various balls and country dances to humorous life.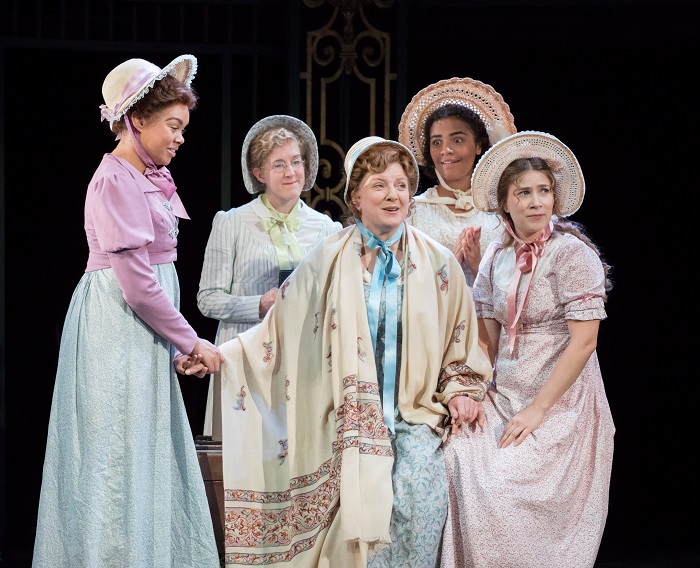 Bruce's cast, which features several recent graduates making their professional debut, are a delight relishing the challenges of Austen's text and the comedic elements of this timeless love story. Mari Izzard and Tafline Steen (as Lizzie and Elizabeth Bennet respectively) bring their characters to life attempting, with relative success, to shake off comparisons with previous incarnations. Izzard in particular relishes in Lizzie's exuberance and determination delivering her killer put downs with panache as she exits to enjoy her married life with the rakish Mr Wickham. Leigh Quinn, Hollie Edwin and Anna Crichlow (Mary, Jane & Kitty) have a harder job with the sisters they embody as they could become one dimensional. However, Edwin shows a deft comic flair in the second act when finally allowed to play more than pretty and sad; Quinn is wonderfully judged as the bookish Mary eliciting laughs from the audience with her weighty pauses and pensive stare; and Crichlow negotiates the thin line between youthful innocence and annoyance well.
At the heart of the show Matthew Kelly and Felicity Montagu are superb as Mr and Mrs Bennet. The duo demonstrate their extensive experience bringing every aspect of these wonderful characters to vivid life. Kelly's Mr Bennet is not as brow beaten as past creations, enjoying winding up his wife and daughters and demonstrating genuine affection for his family. Montagu's Mrs Bennet is hysterical, displaying comic prowess in her timing and physicality – the moment when she launches herself at the set is wonderfully farcical! Steven Meo's wonderful Mr Collins also deserves a mention.
This production Pride & Prejudice makes for an enjoyable evening as it brings Austen's words to the stage. At almost three hours long there is perhaps an argument to trim some of the scenes (particularly in the noticeably long first half) but on the whole the production froths along in an entertaining and engaging fashion.
Reviewer: Clare Chandler
Reviewed: 7th February 2017
North West End Rating: ★★★★