It's December 4th 1956 in Memphis, Tennessee, at a small recording studio called Sun Records. We meet the owner Sam Phillips (Jason Donovan) and one of his artists Carl Perkins (Matt Wycliffe), in session. Carl's brothers are playing bass and drums with Sam's newest signing at the piano, Jerry Lee Lewis (Ashley Carruthers). Another Sun Studio artist pops in, Johnny Cash (Robbie Durham) and the creativity increases. Finally, with his girlfriend Dyanne (Katie Ray) arrives former Sun Studio artist Elvis Presley (Ross William Wild). What follows is an evening that went down in history. A jam session that was never repeated, from a quartet of talent that was later dubbed the 'Million Dollar Quartet' by Memphis newspaperman Bob Johnson the following day.
The show, from an original concept by Floyd Mutrux, written by Floyd and his co-author Colin Escott, uses this iconic meeting of the pioneers of rock 'n' roll and creates a show which gives insight into their relationship (with some poetic license) and the pressures they were under at the time. Elvis had moved to a much bigger record label and Sam had been invited to join him. Meanwhile Sam had signed Jerry and wanted to renew Johnny's contract but Johnny had another offer.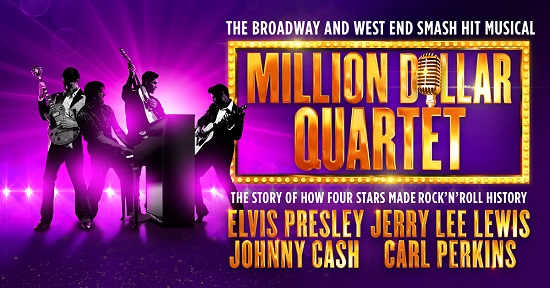 In this backdrop of the corporate against the independent we have some great performances or some very familiar songs. The cast perfectly capture the time and the character of the artists as they were in 1956 - they are youthful, energetic and full of hope. Matt, Ashley, Robbie and Ross aren't doing impressions of these rock 'n' rollers but they are recognisable in their style, delivery and passion. Together the whole company create some really precious moments that left the audience shouting for more.
A particular highlight for me was the rendition of Peace in the Valley, it gave me goosebumps and brought tears to my eyes and a lump to my throat. Elvis was one of my dad's favourites when I was growing up, especially his spiritual albums - it was heavenly!
This is a superb show, perfectly cast, with great direction and excellent live performances. It is full of nostalgia for a time when something special was being pioneered, a sound that would literally change the world. I especially liked the mention of Chuck Berry after the performance of his song 'Brown eyed handsome man', including the hint to the racial divide in America at the time.
At the end, as the audience rose to their feet, applauded and cheered, I look around. I expected to see audience members from a certain demographic, and yes there were many who would be re-living a memory but I'm pleased to say there were people from many other decades. This multi-generation audience knew the songs, encouraged to sing along to the encore performances, maybe they knew them by the original artists or from the many covers that have followed, nevertheless the good songs are timeless.
Million Dollar Quartet is set in particular time and place but the show continues to resonate today, I loved it; showing at the Liverpool Empire until Saturday 18th February and will return to the North West in May at the Manchester Palace Theatre.
Reviewer: Alan Harbottle
Reviewed: 13th February 2017
North West End Rating: ★★★★