A Clever Interpretation Of A Celebrated Comedy
Over one hundred years after it was written, Headlong's modern interpretation of Pygmalion, Bernard Shaw's damning indictment of Edwardian Britain on the verge of radical change, is timely as its subject of class division still remains at large in our now multi-cultural society whilst the raw wounds of Brexit appear to have cut across the usual social boundaries.
No better was this highlighted than in the opening scene where the cast lip-synched over an array of voice overs, collated by the award winning Ringham brothers, that portrayed the diversity of Britain today.
Eliza Doolittle (Natalie Gavin) is the flower seller who is plucked from the gutter by the bullying Henry Higgins (Alex Burnett) and the decent Colonel Pickering (Raphael Sowole) as part of a wager as to whether she can be transformed into a believable duchess in time for a forthcoming garden party at Buckingham Palace. Through some humorous pronunciation exchanges, which cleverly facilitated scene changes, and despite perfecting her accent, Eliza is soon to learn at a gathering for afternoon tea with Higgins' mother (Liza Sadovy), Mrs Eynsford-Hill (Flaminia Cinque) and her children Clara (Racheal Ofori) and Freddy (Gavi Singh Chera), that there is much more to this than just sounding right – you can take the girl out of Kentish Town but can you take the Kentish Town out of the girl? And, more importantly, can you get her to Park Lane?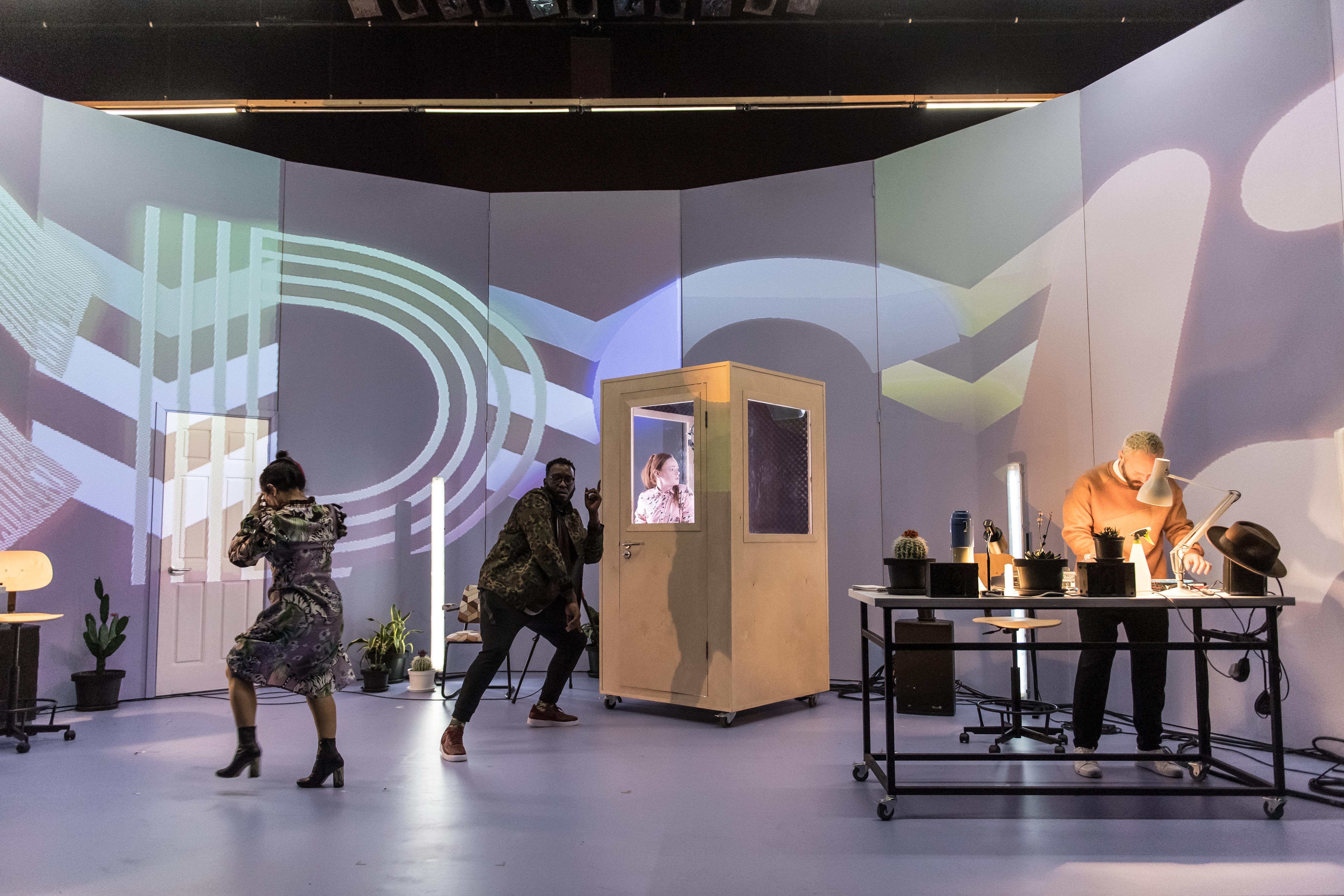 As her transformation becomes complete we are presented with the contrast that Higgins is not a good person despite the trappings that might suggest otherwise; in contrast Eliza's father (Ian Burfield), truly a man of the gutter, displays proper behaviour when unrequited wealth is thrust upon him despite being out of sorts with it. Credit to Gavin and Burnett for strong performances that see their characters impressively move in opposite directions as well as to the other cast members who made this production believable as it spun between new and old.
Director Sam Pritchard has bravely welded the old with the new as the original text is given a 21st Century makeover with digital recording devices, video projections and a mobile sound booth, very much in the tradition of a Headlong production, although at times it felt overwhelming and a little gimmicky which is a shame because the idea is a good one and for a play that even Bernard Shaw questioned could be staged, this comes close to succeeding in most areas. There was much consternation when the play was first released about its use of profane words such as 'bloody' so it was a clever ruse to bleep it out in this production and allow the audience to wonder and substitute their own choice of word(s) - plus ça change, plus c'est la même chose.
The Playhouse began life as the Star Music Hall in 1866 and became a theatre in 1911. In 2000 the Playhouse joined forces with the Everyman to become Liverpool and Merseyside Theatres Trust (LMTT) with Gemma Bodinetz (Artistic Director) and Deborah Aydon (Executive Director) appointed as joint Chief Executives in 2003. As well as the main theatre, there is a small studio space seating up to 80. Further details http://www.everymanplayhouse.com/
Pygmalion is a touring co-production between Headlong, Nuffield Southampton Theatres, and West Yorkshire Playhouse. It performs at the Playhouse through to Saturday 11th March. Tickets available via https://www.everymanplayhouse.com/whats-on/pygmalion or the Box Office on 0151 709 4776.
Details of other venues and booking information can be found at https://headlong.co.uk/work/pygmalion/venues/
Reviewer: Mark Davoren
Reviewed: 7th March 2017
North West End Rating: ★★★