Whilst the recent television dramatisation of Len Deighton's SS-GB imagined the 'what if' scenario had Germany won the war and occupied Britain, Moira Buffini's powerful drama, directed by Kate McGregor, is set in the reality of a German-occupied Channel Islands. The play opens in Guernsey, 1943 to some eerie music which sets the mood for what is to follow as we meet the four female protagonists:
Widow and mother Jeanne Becquet (Belinda Lang), the faded lady of the manor who is now relegated to living in the lodge of her estate, and whose own sense of superiority may prove to be her downfall;
Daughter Estelle (Venice van Someren), whose resentment is played out both childishly and in darker ways;
Daughter-in-law Lily (Sarah Schoenbeck), a stranger herself who is more in need of protection than acceptance;
Their housekeeper Lake (Jules Melvin), a combative and feisty know-it-all.
It soon becomes clear that these four women have adapted quickly to playing by the new rules although their new-found stoicism is soon to be disrupted by the arrival of two strange men: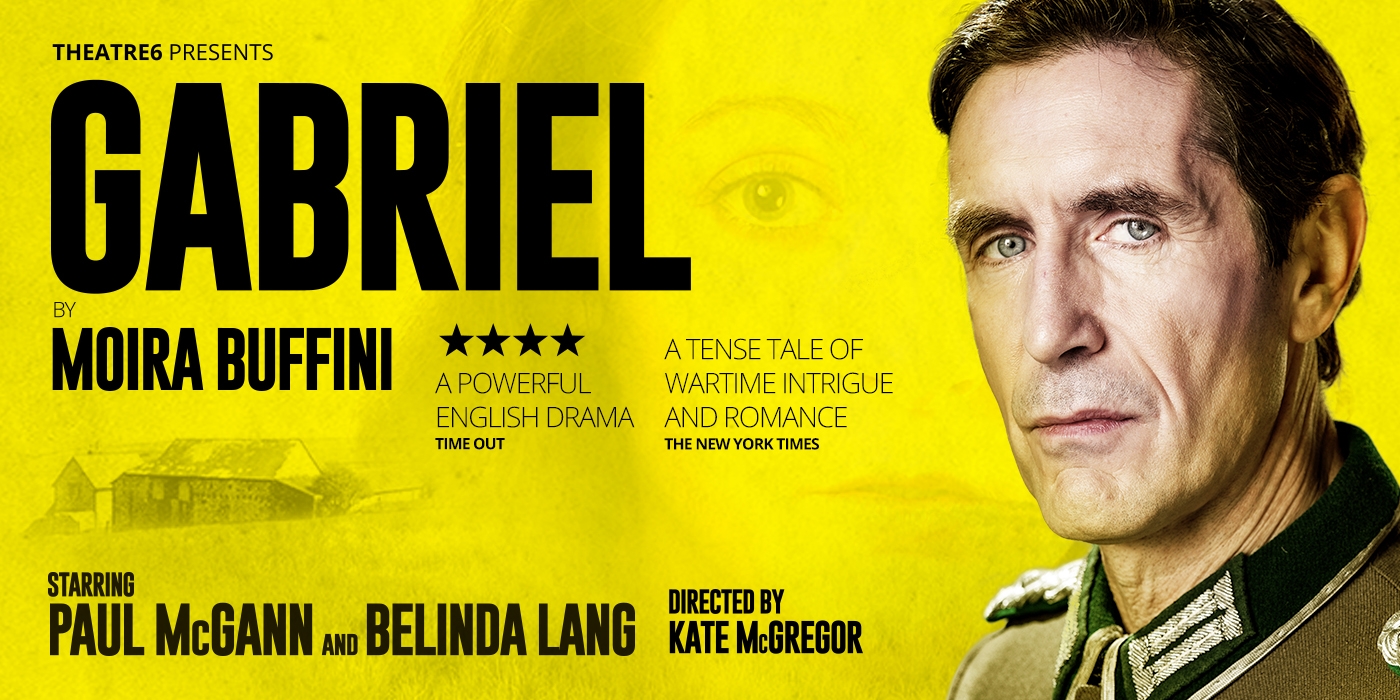 A poetry-loving German Major, Von Pfunz (Paul McGann), is recently arrived on the island and of an uncertain ideological background. He is intellectual and humorous on the one hand yet sinister and ruthless on the other: a cat playing with four mice;
A man found on the beach by Estelle and Lily who in the absence of any identity they name Gabriel (Robin Morrissey). Whilst he recuperates at the house he has no recollection of who he is yet is fluent in both English and German. Is he a friend? Is he a foe? Or is he something altogether unexpected?
This brilliant play starts on the welcome proviso that its audience is intelligent and proceeds to take us on a rollercoaster journey where at every twist and turn, all is not as it first seems as we strive to distinguish right from wrong, good from bad, love from hate, truth from lies, alongside cleverly weaved comic interludes in a game of bluff and counter-bluff.
All the characters show their strengths and weaknesses in ways that we can identify with and which makes some of the ensuing uncomfortable truths that little bit harder to swallow as you are forced to consider, in these circumstances, what you would have done differently, if indeed anything at all.
But perhaps more importantly, and particularly relevant as Britain teeters on the edge of Brexit, it challenges our understanding of the true meaning of family and belonging, as the lengths one would go to protect the ones you love becomes blurred by the need for self-preservation: if this is hell, then who or what is going to save us?
There are strong and mesmerising performances from all the cast in what is a masterclass in ensemble acting. The split stage cleverly captures the two distinct places within the house whilst the sound effects of the sea resonate with the backdrop to the English Channel. Musical interludes by composer Maria Haïk Escudero pace the suspense and tension perfectly.
Gabriel is at the Playhouse until Saturday 8th April, tickets are available from the box office on 0151 709 4776 or online https://www.everymanplayhouse.com/whats-on/gabriel
Theatre6 is an award-winning company which specialises in inventive, visual theatre with original live music. After the Playhouse, Gabriel continues its UK tour, further details of which are available at http://www.theatre6.co.uk/
Liverpool Playhouse operates in conjunction with Liverpool Everyman. As well as the main theatre, there is a small studio space seating up to 80. Further details http://www.everymanplayhouse.com/
Reviewer: Mark Davoren
Reviewed: 6th April 2017
North West End Rating: ★★★★★