Adapted from Es'kia Mphahlele's short story The Suitcase tells the story of a young couple who leave their village heading for the big city with 'pockets full of dreams' to find a better life. Set against the bleak backdrop of 1950s apartheid South Africa the show follows Timi and Namhla from their initial confusion at the bustle of Durban (they think the train announcements are the voice of God) to their increasing frustration as Timi is unable to secure work, and the 'desperate chance' Timi takes to try and secure a better life for them both.
Director Sibongeleni James Ngcobo weaves this story together utilising the impressive talents of Molatlhengi Desmond Dube and Nhlanhla John Lata, who act as narrators guiding the audience through the story, and morph into many of the characters we meet along the way. Lata finds warmth and humour in the gossipy 'wind-bag' Pitso who has a story for everything (he even manages to interrupt the narrators as they introduce him!) and Dube is particularly chilling as the stoic policeman menacingly rolling up his sleeves.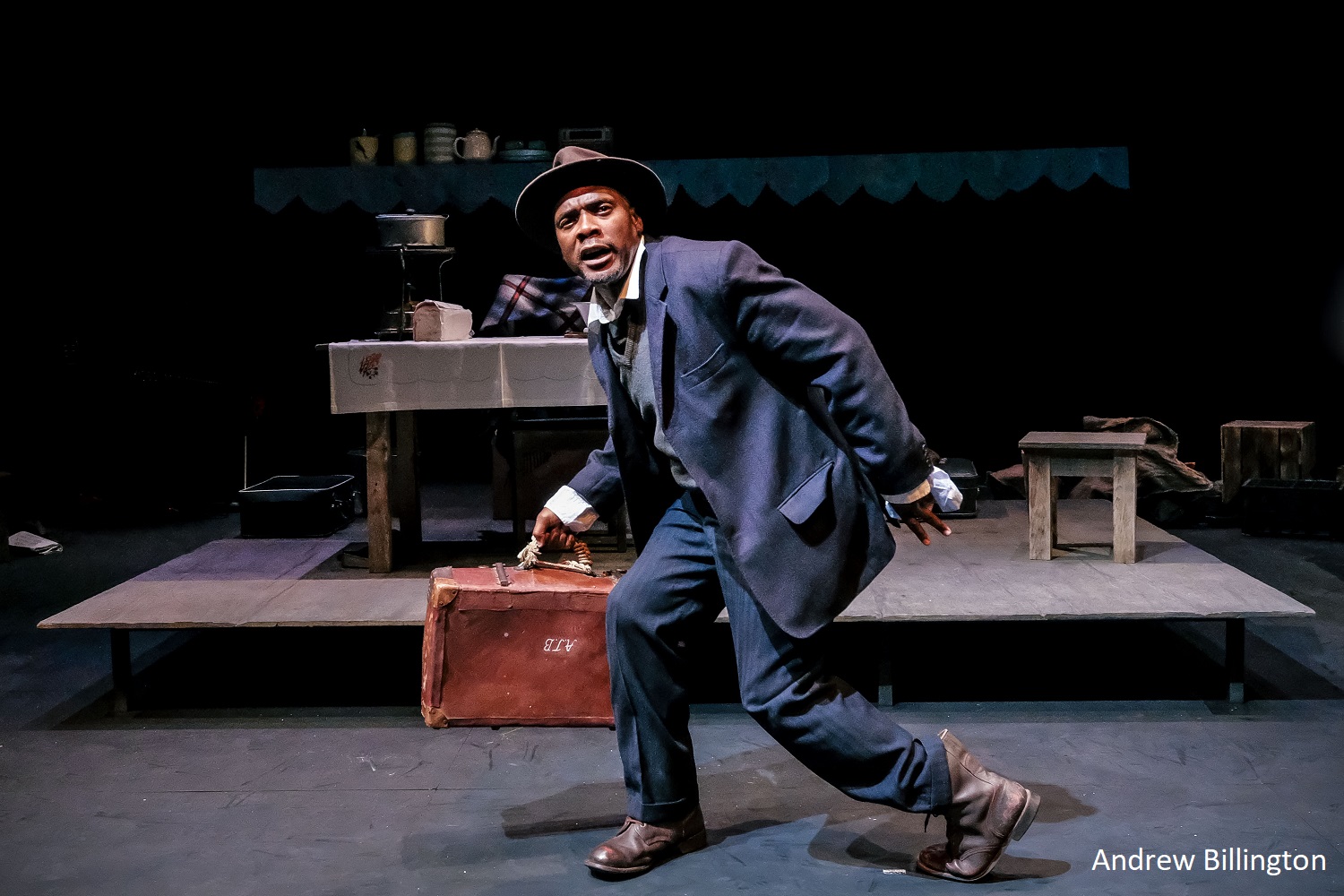 The central story is that of Timi's quest to change his life and Ngcobo's economic staging (complemented by Wesley France's lighting and Nadya Cohen's set) highlights the piece's universality. There is a flow to the movement in the show; costumes are changed in a fluid manner that verges on ritualistic. The dominance of Namhla's kitchen, which sits centre stage, highlights Timi's inescapable motivation but also limits the way that the cast use space. There are some clever solutions but you wonder if the piece would be more suited to a less conventional performance space than The Playhouse.
The music of Hugh Masekela drives the action of the show providing emotional depth. Masekela's bluesy, jazz-infused music is brought to life by Bhekisisa Sifiso Makhosonke Khoza on guitar evoking the heat and heart of South Africa. The cast prove themselves to be exceptional vocalists singing in glorious harmony but it is the three vocalists (Guglethu Shezi, Penelope Nomfundo Sambo and Nokukhanya Gugulethu Dlamini) who steal the show. They haunt the stage, siren like, bringing the story to life.
This is an assured production with much to recommend it; an important reminder of the echoes from the past that continue to haunt us.
Reviewer: Clare Chandler
Reviewed: 4th October 2017
North West End Rating: ★★★