As the film, 'Rita, Sue And Bob Too' celebrates its 30th anniversary, Out of Joint, Octagon Theatre and The Royal Court Theatre present 'Rita Sue and Bob Too' at The Playhouse, directed by the play's original world premier director, Max Stafford-Clark. Years later and it is still a fascinating piece of work, expertly executed and perhaps more relevant than ever.
The story depicts how two schoolgirls embark on a fling with a married man from their council estate. With no previous knowledge of the production, I was dubious after reading the synopsis and wondered how comedy could blend with the serious underlying tones of grooming and underage sex that are core to this play. However, with a play written so openly and honestly, the reality of it was much easier to visualise than I anticipated.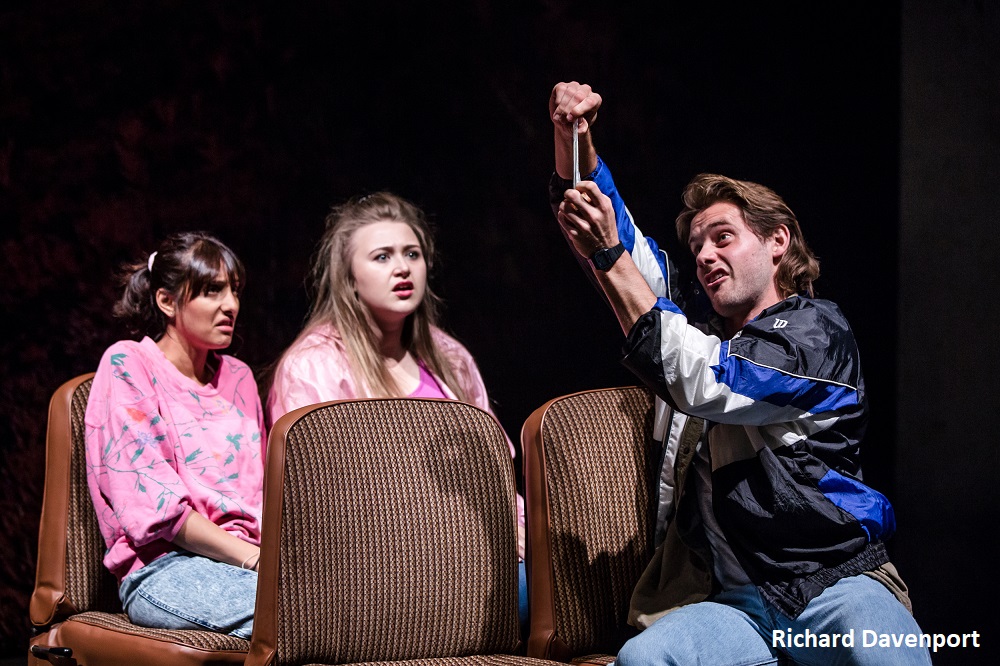 The playwright, Andrea Dunbar, wrote 'Rita, Sue and Bob too' when she was a teen and based it upon her own real-life experiences of growing up in Bradford. Her writing is very real and matter of fact so that the audience quickly accept the shocking concept that a married man of twenty-seven having a sexual relationship with two teens was just a thing that happened and these girls were more than willing participants rather than victims.
Having only rehearsed for four weeks, the cast could not be faulted as they gave highly commendable, talented performances. Rita (Taj Atwal) and Sue (Gemma Dobson) were strong in their lovable portrayal of the young, carefree school girls seeking a bit of fun and excitement. Whilst Bob (James Atherton) managed to be likeable and scandalous within the same breath as he played the horrendous husband to Michelle (Samantha Robinson) who was believable in her overriding love for Bob. Sue's Mum (Sally Bankes) and Dad (David Walker) made up the full cast with their hilarious foul mouths and witty remarks that left the audience thoroughly entertained. It must be noted that despite some loud disturbance within the auditorium, these professionals remained just that- professional at all times.
The show captured the authenticity of the 80s perfectly through costumes, music, hair and makeup. The lighting worked harmoniously with the set signifying the limitations of the estate which was essentially, the only world they lived in.
I truly admired the cast's devotion to this production which became more apparent during the question and answer section they did after their ninety-minute performance. This sparked some fantastic conversations and only added to the connections that the audience made with the characters and the overall success of the evening.
Rita, Sue and Bob too is a wonderfully brave and controversial piece of theatre that left the audience in stitches whilst also giving a real insight into the working class difficulties that are still prevalent today but viewed in a very different light by most of society. The beauty of this play is that it was written before political correctness, meaning it is unique, shocking and something that cannot be recreated. Andrea Dunbar's writing is raw and still very powerful today and it's wonderful to have heard the voice of this writer showcased once again.
Reviewer: Blathine Maguire
Reviewed: 10th October 2017
North West End Rating: ★★★★