Glitter fuelled "gig-theatre", full of quirky promise, cultural references and shining with hope, Brigitte Aphrodite's show definitely packs a punch. From the opening encouragement to "glitter up" to the epic pom-pom finale this is a non-stop raucous rollercoaster.
The show explores Aphrodite's own experiences with the beautiful black dog of the title, charting her battles with depression. There is an anarchic energy to the piece as Aphrodite, ably supported by Quiet Boy on guitar and backing vocals, fizzes round the stage. The piece is interwoven with humour bringing the realities of this illness into sharp relief. We see the impact of depression on relationships in a poignant moment enhanced by a montage of photos which chart the real-life relationship between our heroine and Quiet Boy.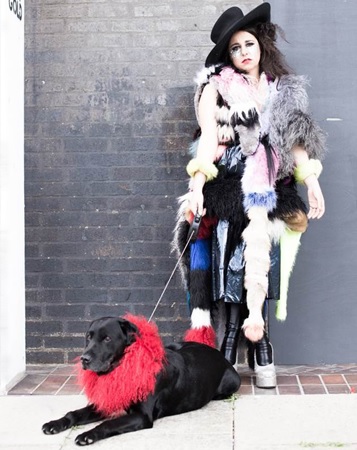 We hear its impact, as Aphrodite retreats to the black flight case that represents her black dog, while the audience sit in darkness listening to voicemails (Yaya sounds like an excellent Grandmother with her promise of gin and tonics). The ripple of panic that passed through the audience in the lead up to this section - as mobile phone ringtones filled the auditorium - added to the piece's dark humour. Aphrodite is skilled at providing relatable examples which provide an understanding about depression.
We learn how in the depths of despair she was unable to care about the greater things in life (in spite of buying The Guardian!), detested Dame Judy Dench and was unable to watch Clueless! There is a relentless drive to the music in the show – highlighting the lack of musical contrast – as Aphrodite and Quiet Boy embody the show's 'musical' label singing and dancing with gusto. 'Pop This Party' is a particular highlight evoking the effects of the destructive cocktail of booze, illicit drugs and anti-depressants.
A show exploring such a universal issue in such a personal way could easily become indulgent but Aphrodite avoids this pitfall. Even when sharing a very personal letter, addressed to her family and friends, she can't resist a few choice comic moments. The enforced finale was much appreciated, showering us with hope ("the rain will come back but I'll be wearing a fuck off rain coat!!") and images of incontinent celebrities.
Part performance art, part musical My Beautiful Black Dog is truly "creshendorious"!
Reviewer: Clare Chandler
Reviewed: 11th October 2017
North West End Rating: ★★★