When writers set out to promote their work it is often done with dry and straight-talking question and answer events. This was not one of these. Marian Keyes is one of the most successful authors of the 21st century and promoted her new book 'The Break' in a way only she could; as though you were visiting her house for a cup of tea and a chat. Keyes' easy-going manner allowed the large audience to be swept up in a variety of discussions ranging from, as the title suggests; books, life and general chat.
Keyes discussed a range of events in her life including her own addiction and time spent in rehab. Her honesty and sincerity was well loved by the audience and sparked some interesting questions from them, some of whom shared their own struggles with loss and mental health. From such a serious topic Keyes then effortlessly managed to bounce this discussion to her love of make-up and the audience clearly enjoyed the opportunity to relish in all things cosmetic.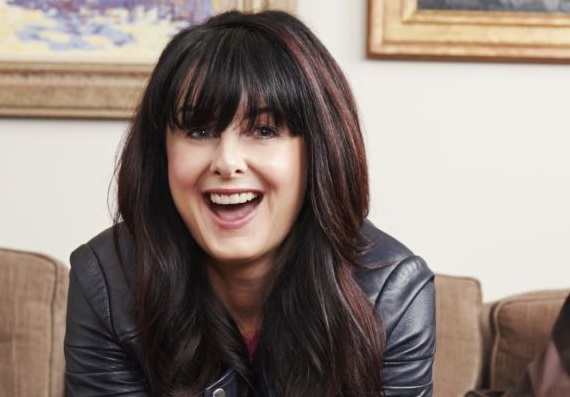 So much so that some of the questions asked were about how to grow your eyelashes longer and if Keyes would discuss her own nail varnish museum. The predominantly female audience were in fits with these admissions and revelations. The atmosphere was, as I'm sure the titular author will agree; lovely. There was genuine warmth emanating from both the stage and audience and Keyes was engaging, energetic and empathetic throughout.
Although the evening was definitely enjoyable and delivered what it promised, it would have been nice to hear more about how Keyes developed her writing style and about other formative experiences. She touched upon these at the start, mentioning how she got into writing and how she was published; it was a shame that this topic wasn't revisited in more depth.
One story about a misreported joke lead to Keyes discussing the issue of gender bias in the writing business. She spoke about the male-dominated Wodehouse prize and how only '2 and a half' women have won in it in recent years, but also that few were ever shortlisted. She argued (and also proved) that women are indeed as funny as men. This would have been an interesting thread of discussion to continue, but alas; there was only so much time in the evening.
The evening was everything that was to be expected if you know Marian Keyes. In short, it was whimsical, witty and thoroughly lovely.
Reviewer: Beth Easton
Reviewed: 5th June 2018
North West End Rating: ★★★★