Abigail's Party first appeared on stage in 1977, the result of what director and writer Mike Leigh called a collaboration between himself and the actors, with the characters were explored through extensive improvisation sessions.
It has frequently been seen as a product of its time. Indeed, as we wait for the play to begin, we look through the window at the epitome of 1970s suburbia, with its chocolate and orange curtains, Swiss cheese plant, and fibre light. However, that all changes as the wall lifts away and we are invited into the home of Beverly and Laurence, as they also invite new neighbours Ange and Tony, and neighbour Sue, who has given her house over to her daughter Abigail, for the eponymous party.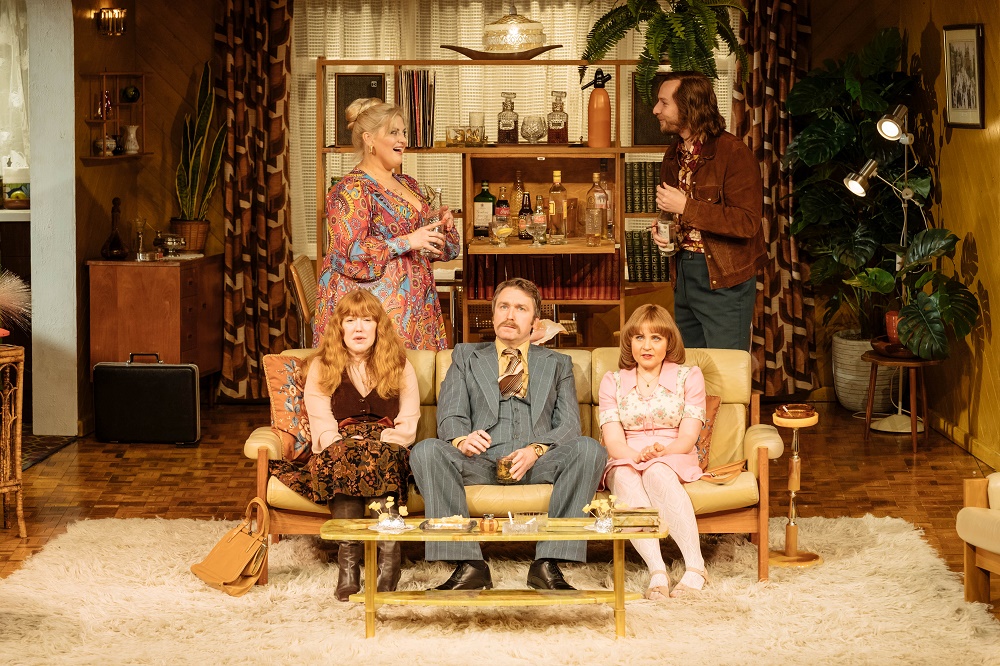 Indeed, from the moment, while the style of the decade is inescapable, it is the characters who take over and make this such a fabulous evening of theatre, as we – like them – are sucked into the tensions and troubles of the various relationships.
Towering over it all is the character of Beverly, here played with power and grace by Jodie Prenger. Beverly is out to impress and make things go with a swing, but on her terms. She is seemingly in control, but the underlying nervousness and vulnerability flicker to life as she snaps at husband Laurence (the excellent Daniel Casey) in her goal to present a vision of a perfect life. But even as early on as this, the cracks in their relationship are visible – Laurence's seemingly innocent love of olives is indicative of the huge gulf between them, which becomes apparent as the evening progresses and the battle lines are drawn between her taste and aspirations and his.
Add to the mix Ange, dressed in candyfloss pink but, as Beverly points out, not quite the right shade of lipstick, and Tony, ex professional footballer and now a mere computer operator. Again, the tensions in their relationship heighten as the evening progresses and the alcohol flows.
The final character is the lovely Sue, who, as Ange so tactlessly points out, was getting divorced as the other two couples were getting married, who prefers sherry but whose good manners make her unable to resist the constant gin and tonic 'top ups' Beverly forces on her.
And it is these characters that drive the evening forward, with the audience in turns wincing and laughing, simultaneously in sympathy and in horror at the changing dynamics between the five adults. Despite the 1970s trappings, these are people we would all recognise today, which is what makes this such a wonderful evening of theatre. Perhaps there could have been more nuance, maybe some subtlety was lost at the expense of the humour, but the cast fully deserved the standing ovation they received. A true tonic for our times.
Reviewer: Johanna Roberts
Reviewed: 25th March 2019
North West End Rating: ★★★★