Liverpool University Student Theatre round out their 2018/19 season this week with their production of Legally Blonde and wow, is it a good one! Legally Blonde, based on the film of the same name, tells the story of Elle Woods and the extents that she goes to win back her love interest Warner Huntington III.
Katya Chambers does a terrific job directing this production and it is a lesson on how to put on a fantastic show without the need for visual spectacle and huge sets. Hannah McWilliam's choreography is fun and exciting and fits the piece perfectly. The production boasts a terrific sounding band and fantastic clean vocals so a huge amount of credit must go to musical directors Olivia Smith and Jacob Curry.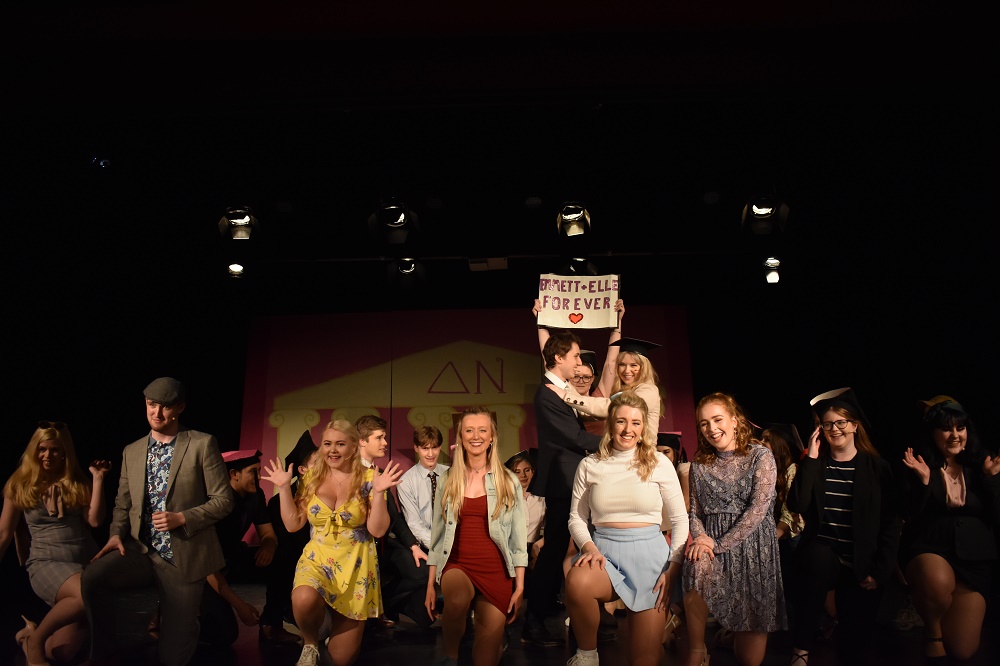 Rachel MacBryde plays gives an impressive performance as Brooke Wyndham, performing a physically demanding dance routine whilst showcasing her very strong vocals. Olivia Webster, Mia Gregory and Annabelle Lee play Elle's sorority sisters Margot, Serena and Pilar and they are great fun to watch. They have a brilliant energy about them and all three of them have fantastic voices. Cameron Steen does a great job as both Dewey and Kyle. His acting skills really show making the roles so different – I didn't even realise they were played by the same person until reading the programme!
George Robertson demonstrates some great vocals as Professor Callahan whilst Sam Nixon makes the perfect Warner. His voice is gorgeous to listen to. Molly Darracott is perfectly cast as Paulette. Her vocals are outstanding, her characterisation is spot on and she has fantastic chemistry with Elle Woods. Jack Gloyens does a good job as Emmett – he's likeable, his vocals are very strong and his chemistry with Elle is also great. Taylor Anne Henwood's portrayal of Vivienne had a depth to it that I'd never seen before. She portrays the journey Vivienne goes on to accept Elle fantastically and her vocals are outstanding.
Leading the cast as Elle Woods was Ellen Duguid. She led the cast so expertly, with killer vocals, amazing characterisation and she portrayed Elle's journey and development wonderfully.
Legally Blonde is just great fun with a host of brilliant songs by Laurence O'Keefe and Nell Benjamin. LUST's brilliant production of it plays at the Stanley Theatre until 4th May 2019. https://tinyurl.com/yy35shj8
Reviewer: Jacob Bush
Reviewed: 2nd May 2019
North West End Rating: ★★★★★