'My Fairfield Lady' is the latest production from Liverpool's Royal Court. It's a new play written by Kevin Fearon and based on the concept of a localised My Fair Lady with a twist whereby the posh, well spoken lady must become 'scouse' in order to be accepted. The story line was quite loose in its links to the original classic 'My Fair Lady' as the writer brings in more modern themes and although the concept is a funny one, I think there is more work to be done on this show before it becomes a big hit.
As the curtains open for 'My Fairfield Lady', the audience are met with visual feast thanks to the modern set that mesmerises and shines (literally). This is only enhanced when the scene changes arrive and the set does its magic to mechanically rotate, fold and evolve in a colourful, fascinating and quite beautiful way. The set also make use of iconic visuals which are displayed on the back to create realistic backdrops. The whole stage looks colourful and the costumes have also enhanced this by being vibrant and fun. This show is a visual spectacle thanks to the talented set and production team who have delivered a professional and memorable backdrop to this new piece of theatre.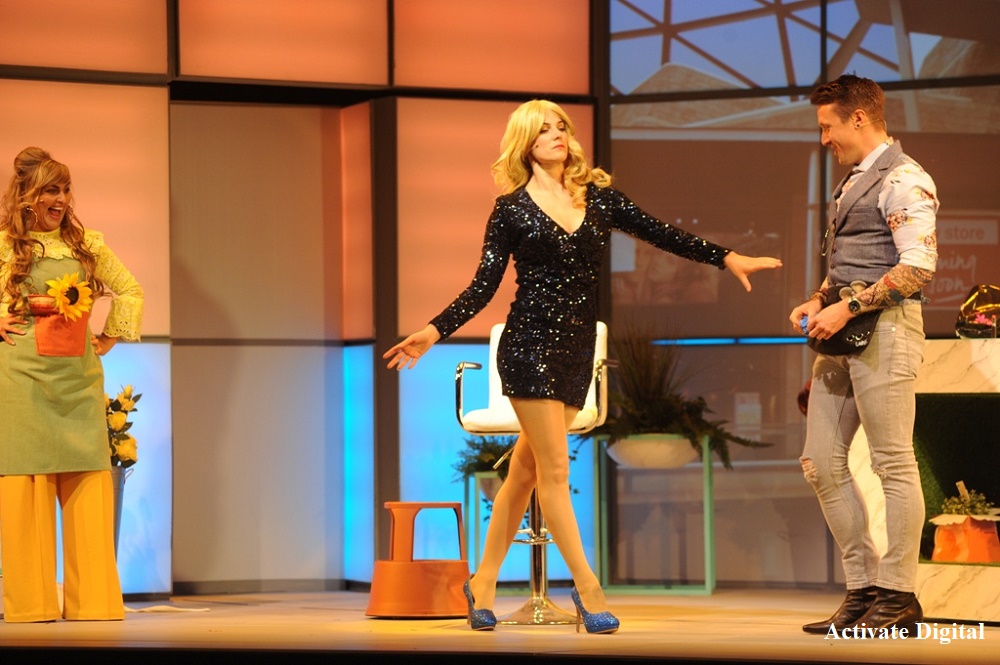 However the storyline did not match as it felt a little disjointed which affected the overall success of this show. The script is funny in parts but it borderlines cringey on occasion which makes for awkward viewing. There were some difficulties with pace and some scenes did not seem to flow in a natural manner. Perhaps this was due to the mismatch between some of the serious themes involved; money, sickness, death, dementia and some of the silly, slapstick, crass comedy styles used.
With all this said, there were some very funny moments and the pinnacle scene was delivered when Steph (a fully blown, fully fledged scouser), has to teach Lizzie (a posh florist from the Wirral) how to 'talk scouse'. This scene had me in stitches and the whole audience were left wanting more. Unfortunately the storyline moved away from this and focused more on the marriage and money storyline. Mary McDermott's dying wish is for her only son to marry and she has threatened to take him out of her will if he doesn't do so immediately. This storyline in itself is unrealistic for a modern play and it didn't work for a show that's been written and based in the current year.
Despite this, the performers still managed to excel with a particularly brilliant performance from the lead Jessica Dyas who brought humour through her clumsy, posh, awkward characterisation that was completely fitting to the role. Matthew Walker showed his truly diverse talent playing a triple whammy of the doctor, the priest and Robbie and Helen Carter brought exactly what the Royal Court audience love to see – everything scouse!
Overall, 'My Fairfield Lady' is a good night out if you want some local humour and perhaps you aren't too serious about theatre. The set is fantastic, the performers are talented and there are moments of brilliant comedy. The Royal Court theatre is always a pleasure to visit and I know that with a little makeover, just like Lizzie, this show has great potential.
Reviewer: Blathine Maguire
Reviewed: 2nd May 2019
North West End Rating: ★★★