A Night of Twisted Tales is the showcase of Make It Write's partnering of new writers with new directors using local actors to perform the six resulting short plays, all on the theme of trust and betrayal, themes that, while central in all our lives, can be interpreted very differently, depending on the writer's perspective, but all with a twist at the end.
Thus, the exploration of these themes covers a wide range, starting with Wrong Place, Right Place (written by Gaëlle Vidal, directed by Danny Treanor), which sees the comic pairing of rookie superintendent (Jess Bayley) and her more street aware side kick (Christine Corser) chasing a serial killer across Merseyside giving rise to some lovely comic moments.
Hello…I'm Here…Don't Leave Me Alone (writer: Kate Bannon, director: Mark Kyle Cooper) explores the anguish of Lisa for whom normal teenage angst is made so much more difficult by selective mutism as she tries so hard to find a friend who will look past her condition and make the effort to accept her and appreciate all she has to offer. Sheddie Broddle is excellent at conveying Lisa's anguish and torment, while Gill Lewis does sterling work playing Susan, the potential friend, as well as the other characters, highlighting the clichéd reactions of those who don't understand the condition.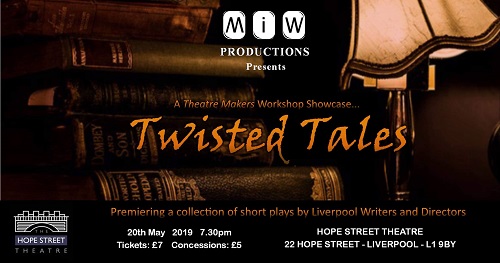 Pauline Morris, in Sitting on a Bomb slowly reveals the relationship between the two sets of characters Alex/Evie (Adrienne Baker) and Tom/Eddie (Matthew Morris), with multiple layers of betrayal in a complex structure that moves from present to past to even further back in history, leaving us wondering what will happen to them in the future. Perhaps the storylines were sometimes a bit confusing, but it is an ambitious piece of writing with some evocative poetry interspersed among the dialogue, and shows great promise.
In Something Blue, writer Steve Bird offers a beautiful short play, well directed by Jay Lally that really deserves to be more widely seen. Erin Joy Laffan, playing Ruby, and Kimberly Ford playing Rose, are excellent, conveying pathos, torment, pain and doubt but with such wonderful touches of humour, and sparks fly as the friction between the two characters increases to the final denouement.
900 Seconds On A Death Is a cleverly written monologue by Angela Langley, directed by Michelle Parker, and performed by Christine Parker as Barbara, who shows great technical skill in delivering a range of emotions and in presenting her version of the other characters – mainly her daughter and her husband but also minor characters she comes into contact with – as she gradually reveals to the audience that things are not always as they seem.
The final piece, Full Disclosure (writer: Sean McMahon, director: Michelle Parker) is set in prison and shows us how the relationship between Nurse Patrick (Shaun O'Connor) and inmate David Hunter (Mycroft Milverton) is far more complex than it seems initially. There is a convincing sense of how the characters have arrived at the point where we see them, and we are given plausible reasons for being able to take their story forward.
All involved are to be congratulated on delivering an evening of thoughtful and creative work, and it will be fascinating to see where they go from here.
Reviewer: Johanna Roberts
Reviewed: 20th May 2019
North West End Rating: ★★★★