Recently celebrating its 8th year, Grin Theatre Company is Liverpool and Merseyside's only LGBTQ+ fringe theatre company. Despite the progress that has been achieved in recent years in relation to equality, it remains important that their voices continue to be heard and it is refreshing that Grin continues to provide a diverse and richly varied creative hub for artists from the LGBTQ+ community.
Queertet is now a regular fixture in the LGBT calendar and acts as a curtain raiser to Liverpool's Pride celebration which takes place in late July. Kiefer Wes Williams, Grin's artistic managing director, has put together an intriguing and powerful collection of short/long form performances for this year's Queertet which is scheduled across two nights on 4th July and 11th July at 81 Renshaw Street.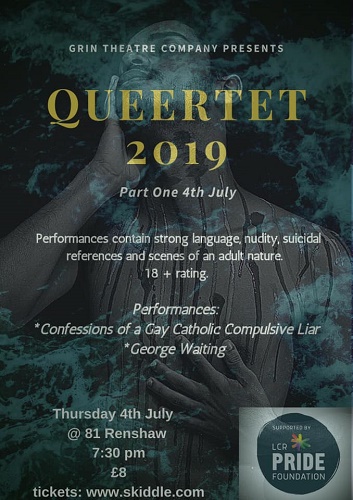 Part one consists of two plays, George Waiting and Confession of a Gay Catholic Compulsive Liar.
George Waiting, written by Wes Williams and directed by Meg McFarlane, is a one-man performance set in an NHS waiting room. George (John Smith) is waiting for his partner who is in counselling for his HIV status. There was tight direction from McFarlane with inventive use of the limited space and a powerful portrayal from Smith complemented by good use of sound and light, which resulted in a good overall performance about a highly sensitive and emotional situation.
Confession of a Gay Catholic Compulsive Liar is written, performed and devised by Andrew Sinclair with direction from Wes Williams. It is a strongly emotional verbatim performance piece brought to the Grin following its World Tour 2019 – last week Bulgaria, this week 81 Renshaw Street!! – in which we see one man's journey of self-discovery and personal identity through his fractured relationships and emotional bonds with his family, and in particular his own grandfather. Sinclair shows off strong performance skills throughout this engaging, frank, and honest rollercoaster which is directed with honesty and a keen sense of the here and now by Wes Williams. The audience were transfixed throughout and Sinclair had real tears as he approached the 'almost' tragic finale to his performance – not unsurprising as it is based on a real memoir – which left many audience members in tears as well.
81 Renshaw Street is a café serving up the freshest, heartiest homemade food, to eat in or take away. Their basement record store has thousands of new and second hand as well as collectibles and was enough to make me go and invest in a record player. They provide regular entertainment, such as tonight, with a purpose venue at the rear. Further details http://www.81renshaw.co.uk
Queertet 2019 Part 2 is on Thursday 11th July 2019 with four brand new plays at 81 Renshaw, Liverpool. Tickets are priced at £8 and are available via www.skiddle.com or on the door.
Further information on Grin Theatre can be found at https://www.facebook.com/grintheatre/
Reviewer: Mark Davoren
Reviewed: 4th July 2019
North West End Rating: ★★★★