The estate of Sudley House provides one of the perfect settings for Liverpool Network Theatre's touring summer production of As You Like It under the direction of Frank Kennedy, with assistance from Michael Medlicott, James Gray, and Julie Hills. Whereas most of Shakespeare's comedies are shadowed by death, this one offers four weddings and no funeral in a series of debates on the nature of love played out against a romantic woodland backdrop.
Orlando (Terence Conchie) is badly treated by oldest brother Oliver (Sanel Susak). Duke Senior (Ian Gray) has been banished and the court usurped by his younger brother, Frederick (Michael Fry). Orlando fights with Charles (Medlicott), the court wrestler, and he and Rosalind (Beth Easton), daughter of the exiled duke, fall in love.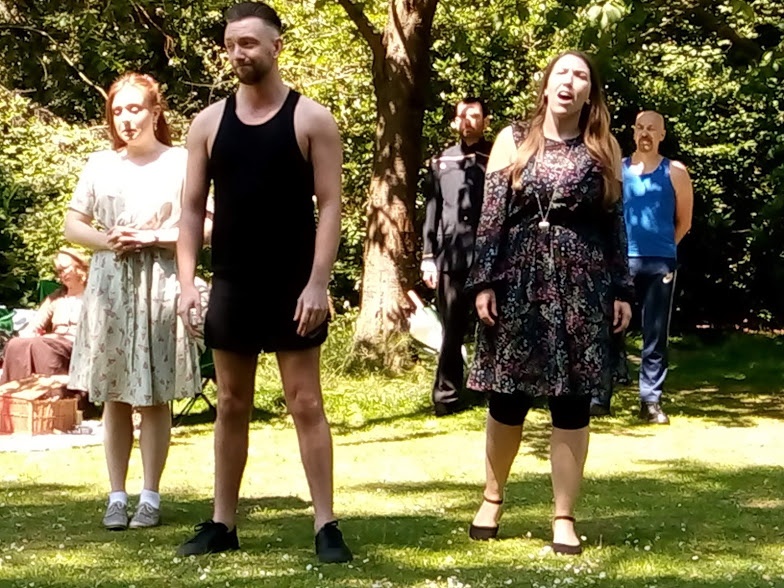 Rosalind and her cousin Celia (Madeline Cole), daughter of Frederick, leave the court for the Forest of Arden, taking the fool Touchstone (Matthew Loyden) with them: Rosalind disguises herself as a boy, 'Ganymede', while Celia calls herself Aliena, and they come to the assistance of old shepherd Corin (Anne Rock).
On hearing from loyal servant Adam (Eddie O'Hare) that Oliver is plotting to kill him, Orlando also flees to the forest where he meets up with the banished duke and his courtiers. 'Ganymede' offers to assist Orlando in his wooing by pretending to be Rosalind, so that he can rehearse his love-lines.
Shepherd Silvius (Oliver Barden) is in love with Shepherdess Phebe (Donna M Day), but she falls for 'Ganymede' whilst Touchstone decides to marry Audrey (Liana Jane Bourne) the goatherd.
Oliver comes to the forest and his life is saved by Orlando: repenting of his wicked ways, he falls in love with Celia. Frederick becomes a hermit and Rosalind, restored to her female self, arranges multiple marriages, presided over by the god Hymen (Jess Ashcroft).
As all ends happily, melancholy traveller Jacques (Olee Bass) wants no part of the festivities as Rosalind – Shakespeare's most complete woman despite spending the majority of the play pretending to be a man – exposes the illusion of romantic desire and confirms the key for keeping a woman is not to restrain her but rather to allow her wayward nature and unashamed verbal, emotional, and sexual energies: all duly noted!
Kennedy has sensibly abridged the play but also introduced the setting of Senior and his courtiers-come-musicians/singers having a picnic in the background throughout which I found a distraction to the main scenes, and the ensuing musical interludes, with original composition by Pitchers, disrupted rather than added to the flow of the play.
The main cast are enthusiastic throughout and I particularly enjoyed Bass' melancholic Jacques and the benefit of his 'All the world's a stage…' speech. Able support is provided by Yahya Baggash; Kate Dobrovodska; Karolina Gorska; TJ Hilton; Shaun Hughes; Rory McEgan; Eleanor Parry; and Stephanie Pitchers.
Two stood out though with Easton surpassing herself as Rosalind, perfectly capturing the spirit of 'girl's games' through the characterisation of 'Ganymede'. Network's summer production has a knack of throwing up a new talent and this year was no exception: Cole was simply outstanding in her debut Network performance. Her and Easton (the 'find' of 2017) played off each other brilliantly throughout which showed in the great humour and comic timing of their performances. I look forward to seeing their future work.
As You Like It performs at the following venues on the following dates:
Friday 12th July at 7.30pm @ Lowlands, West Derby
Saturday/Sunday 13th/14th July at 2.00pm @Reynolds Park, Woolton
Tickets are priced at £10.00 (Concessions £8.00) plus booking fee and are available from https://www.ticketsource.co.uk/liverpool-network-theatre
Reviewer: Mark Davoren
Reviewed: 7th July 2019
North West End Rating: ★★★★