Warnock, written by Barry Levy, is an exploration of the shortcomings of the care and justice systems and what happens to people when things go wrong. Directed by Peter Sebastian, it tells the story of 16 year old Sasha Kilpatrick (Rebecca Bryan), a young homeless girl who has been in and out of the Warnock Youth Detention Centre.
The play begins with Sasha and her close friend and companion, Dodge (Johnny Sedgwick) waking up on a beach in Blackpool. That evening they go to do their latest job, the robbery of a local warehouse. Unfortunately their accomplice does not show up and the warehouse is crawling with security staff. Dodge manages to escape but Sasha is caught and returns to Warnock.
When she arrives she meets Michelle Glover (Eleanor Bate) a seemingly apprehensive girl whose sister, Kerry (Chloe Dwerryhouse) is already serving time at Warnock and Laura Riley (Kayla Lundstram) who has been found guilty of murder, despite protesting her innocence. The girls in the detention centre develop a close relationship as they navigate life in Warnock.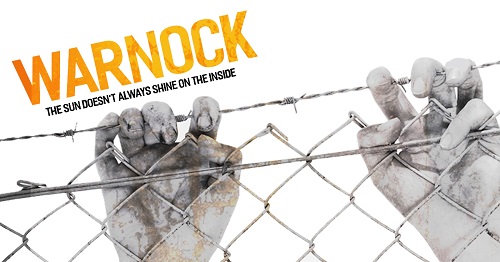 While some of the prison staff are trying to create an environment of education and development for the girls in their care, others are taking advantage of the situation to further their own interests. Warnock is a toxic environment, especially for Sasha who is abandoned and alone in her cycle of reoffending and reimprisonment.
It quickly becomes clear that some of the prison staff are aware of the bad behaviour of some of their colleagues, but the word of the inmates will not be taken as serious evidence, meaning that they are turning a blind eye to what is going on while they build their case. Can they fix things before it's too late?
The characterisation of the prison staff is interesting combining those who are passionate about helping such as Mr Hughes (Joe Gordan) to those who feel they are beyond help such as Mr Abbott (Colin Jones). These characters serve as representations for the extremes of either side of the spectrum. Jones' portrayal is particularly cold and menacing and his ability to change the entire tone of a scene through subtle facial expression and tone of voice deserves praise.
The play is presented in the half round, an interesting technique which creates a goldfish bowl effect for the audience. However, the seating is quite far back from the stage and a smaller half round or thrust layout could have added more intensity to the show. Consideration needs to be given to blocking as the actors frequently tended to direct their performance towards the back of the stage, meaning that facial expression and lines were lost for the entire audience. Thought also needs to be given to vocal projection as a whole, as on occasion dialogue was barely audible.
Scenery is created through a combination of naturalistic and symbolic projections on the back wall. These create a sense of place and add to the emotion of some of the scenes. There were some long gaps between some scene changes which may have been intentional in an attempt to add tension, but caused the play to lose pace.
Bryan's performance as Sasha is powerful, combining the sense of a streetwise and confident young girl, with a lost soul who just wants to be loved. The emotional complexity and realism of the portrayal is admirable.
Sedgwick's performance as Dodge and Keefy Steve playing Mr Norris Anderson, provide some light comedy relief to the show. Gemma Rowlands (Samantha Westwell), a Del Boy like character selling various items within the detention centre is a lovely addition to the story. These characters add lighter elements to the show which add a feeling of roundness of the play.
Warnock is a dark story, brilliantly performed by an evidently close and hardworking cast. While the tension and drama could be improved on in some parts of the play, when emotions are high the performances skyrocketed right up until the breathtaking ending.
Reviewer: Donna M Day
Reviewed: 11th July 2019
North West End Rating: ★★★