Liverpool Royal Court are back with their latest slice of comedy as they present "The Menlove Avenue Murder Mystery". Following in the success of Yellow Breck Road and The Miracle of Great Homer Street, Gerry Linford has written another hit comedy to delight the local audiences of Liverpool. With local humour, endless gags and characters that make you howl, this show is easy watching, whole-hearted entertainment.
Eddie and Trish, who have been married for 25 years, are on their way home from the local when they bump into their new neighbours Greta and Martin. Eddie is a Columbo enthusiast and his suspicions are raised when he meets the particularly crazed 'Greta'.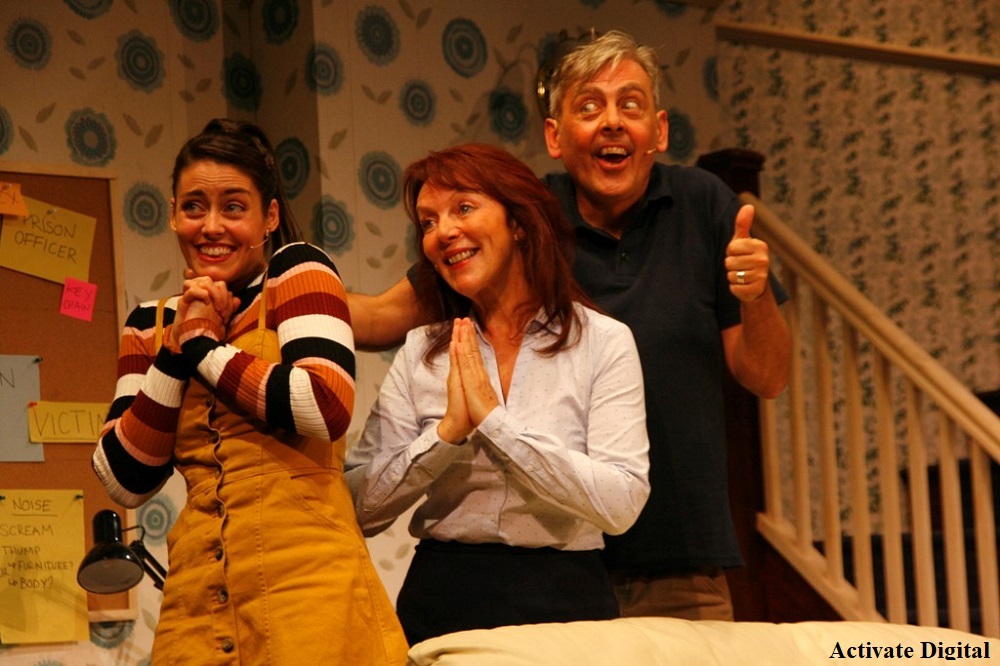 When Martin dies suddenly, Eddie seizes the opportunity to take on his biggest challenge yet – solving the Murder Mystery of Menlove Avenue! With the help of his daughter Phoebe and her friend Josh, this soon becomes a team effort to find evidence that unravels what really happened next door on that fateful night.
The performers were well cast with strong performances across the board. Paul Duckworth played the likable 'Eddie' who the audience felt like they knew for years in his relatable and funny ways. 'Greta', played by Gillian Hardie was particularly brilliant in her portrayal of the wild and intriguing murder suspect. Martin, played by Liam Tobin demonstrated accent quality and skill as he doubled up not only as Columbo but as his own hilariously brilliant twin brother with many, many accents.
The cast were supported by a competent production team and as always, the Royal Court completely deliver on set, lighting, sound, atmosphere and general production. The use of projector to highlight different scenes added more comedy and depth to the overall production and the revolving set is always a spectacle in this beautiful theatre.
This show is a little more 'how was it done' than 'who did it' but it still leaves the audience guessing, with a couple of twists and turns along the way. There is more comedy than murder mystery but the well-loved Royal Court Humour still stands the test of time. It's silly, ridiculous and sure to leave you laughing all the way home.
Reviewer: Blathine Maguire
Reviewed: 4th September 2019
North West End Rating: ★★★★